The 13th Nano has been given an upgrade with a Lift and Run chassis that can handle short runs and sprints as well as providing the stability to squat and deadlift. It handles HIIT-style moves just as well, and a stiffer upper helped my foot slip less. It's a new favorite.
For
Lifting heel is sturdy
Good for short runs
Good grip
Lots of colorways
Against
Not good for longer runs
Sizing can be tricky
Just when you thought Reebok couldn't improve on its Nano trainer range, it does. The Reebok Nano X3 doesn't look too different from the Nano X2, but the changes are enough to make the Nano X3 my favorite new training shoe. I don't say that lightly, and it should find a place on both lists of the best gym trainers and best CrossFit shoes.
Reebok says this is the first training shoe that you can also run in thanks to its new Lift and Run chassis. I was keen to test this claim because carrying different trainers to the gym for my various workouts gets tedious. Could this finally be the pair of trainers that allows me to cover all bases when I train?
Reebok Nano X3: Price And Availability
The Reebok Nano X3 was released in early 2023 and costs $140 in the US and £110 in the UK, which is about the same as the Reebok Nano X2 cost when it was released in 2022. It's not a cheap shoe, but is versatile, so it may save on buying several pairs of trainers.
The Reebok Nano X3 is available to buy from Reebok UK and Reebok US, as well as third-party retailers. The colorways available at different retailers vary.
Reebok Nano X3 Vs Reebok Nano X2: What's New?
The major change between the X2 and the X3 is the addition of a Lift and Run chassis, and I'll detail the effect below.
There have also been changes to the Flexweave upper, which is now slightly more rigid. This is ideal for greater foot support and stability. Although I didn't notice problems while reviewing the Reebok Nano X2, I've read other reviews in which people mentioned that the X2's upper stretched over time. I can't imagine this being an issue with the Reebok Nano X3.
If I was to pick between the X3 and the X2, I'd opt for the X3, because it's comfier and more supportive to run in.
Design And Fit
I love the look of the Reebok Nano X3. The heel and the shoe's upper look harmonious, with the Reebok logo breaking across the two. I wore the black and white colorway, which went well with most of my gym wardrobe, but there are plenty of colorways to suit different styles.
The X3 retains the 7mm heel-to-toe drop, which I find helpful for squatting, though some gym-goers may prefer a smaller drop.
You may want to play around with the sizing. I'm a UK size 6 and this fitted well, although it did slip a bit around the heel. After a while I didn't notice, although in hindsight, a half size down may have been ideal, as I've often worn UK 5.5 for Reeboks.
Is The Reebok Nano X3 Good For CrossFit And HIIT training?
When I tested the Reebok Nano X2 I felt my foot slide around during higher-intensity workouts. It may be comfortable, but I didn't feel fully supported. Things have improved and I didn't feel my foot slip during box jumps, burpees, cleans, wall balls, sled pulls and everything in between, plus the sole gripped well.
Is The Reebok Nano X3 Good For Resistance Training?
These latest Nanos are ideal for hitting the squat rack. The shoe's stability is excellent, and I didn't once feel as though my feet were going to fall to the side. I love the 7mm heel-to-toe drop, which allows me to push up through my heels on back squats and activate my glutes. Much like the Reebok Nano X2, I felt comfortable increasing the weight on my resistance-based moves, as I knew my feet were supported.
Is The Reebok Nano X3 Good For Running?
The heel of the Nano X3 contains Floatride Energy Foam, which features in Reebok's running shoes—some of which have made it into Coach's best running shoes round-up. This means the Nano X3 is great for shorter runs or even sprints, but for anything over 5km, you're better off with a pair of dedicated running shoes. The bounce required for long runs just isn't there yet.
Is The Reebok Nano X3 Worth It?
The Reebok Nano X3 is a great shoe that will handle every gym-based, CrossFit-style workout, and give you the edge when these workouts include short runs. It provides comfort, and your feet are well supported and cushioned.
The sole is able to handle different types of workout, offering a rigid heel for barbell exercises and a bouncier feel when running. The new and improved upper is comfortable, supportive and breathable.
I can't recommend the Reebok Nano X3 highly enough. I've tried many other training shoes, but the versatility of this one makes it my new favorite.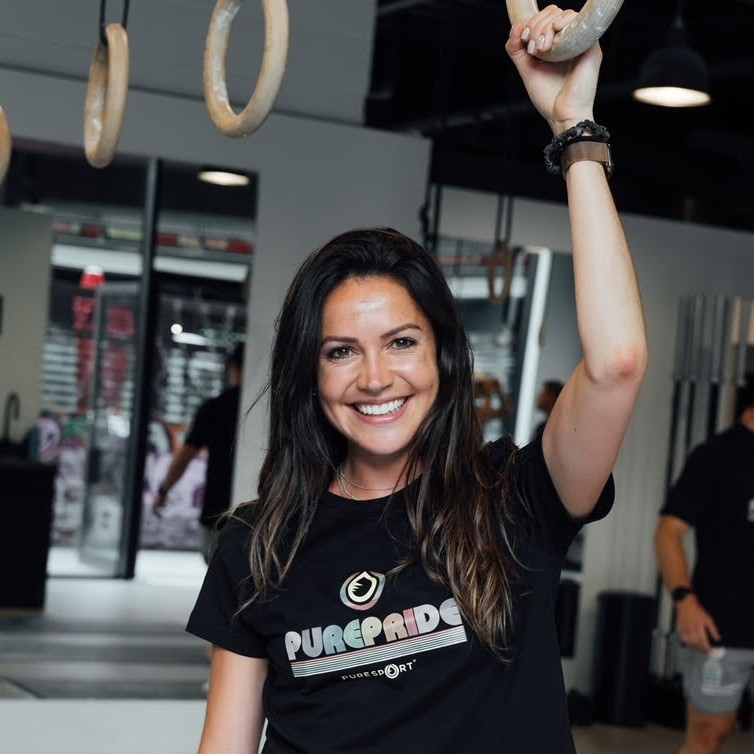 Lucy is an experienced health and fitness journalist, and was formerly health editor for TI Media's portfolio of women's titles. Lucy qualified as a level 3 personal trainer with Train Fitness in 2016, and also holds qualifications in pre- and post-natal fitness, as well as in nutrition for exercise.