Which Is The Best Black Friday Adjustable Dumbbell Deal? JAXJOX DumbbellConnect Vs Bowflex SelectTech 552
Two of our favourite adjustable dumbbells are reduced in the Black Friday sales. Here's how to pick the right set for you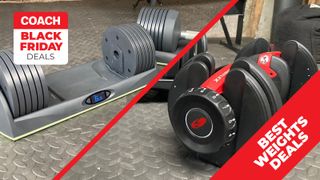 (Image credit: Future)
Selectorised adjustable dumbbells are a great investment for a home gym since they offer a range of weight settings on a single dumbbell, and it's easier to change between them than on spin-lock dumbbells.
This Black Friday is a fantastic time to shop for a pair, with plenty of deals to consider, but two in particular stand out. Both Bowflex SelectTech 552 and JAXJOX DumbbellConnect have seen significant reductions and both sets feature in our round-up of the best dumbbells.
In the UK there's now a £60 price difference between the two, with the JAXJOX being the cheaper. In the US, the difference is $150, which may make your decision for you. But whether you've wavering between saving £60 or going with the bigger brand name, or want reassuring that you're still getting a quality set of dumbbells – just for a lot less than usual – we can help. I've used both sets and think the JAXJOX set has several distinct advantages over the Bowflex, which I'll run through below to help you decide which would suit you and your wallet best.
Before we proceed, here are the deals.
UK Prices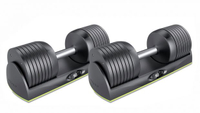 (opens in new tab)
JAXJOX DumbbellConnect Adjustable Dumbbells Was £390 Now £300 for two from Decathlon (opens in new tab)
Save £90 While the headline reduction on the JAXJOX DumbellConnect is £200 (and reviews on our sister sites confirm the RRP of £499.99) they are currently listed at £390 on Argos – the brand's go-to UK stockist, linked to from their website – so we'll say you're saving £90. However, the key detail is that they're now cheaper than buying two Bowflex adjustable dumbbells.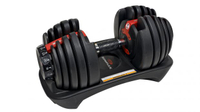 (opens in new tab)
Bowflex SelectTech 552 Adjustable Dumbbell: Was £219 Now £179.90 for one on Amazon (opens in new tab)
Save £39.10 The Bowflex SelectTech 552 adjustable dumbbell is a great piece of kit, able to switch between 15 different weight settings with a the twist of the dials on either end. It's sold as a single dumbbell, but Amazon has knocked almost £40 off the RRP, saving you just shy of £80 for the pair. Two will cost you a total of £359.80, however.
US Prices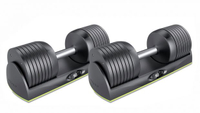 (opens in new tab)
JAXJOX DumbbellConnect: Was $499.99 Now $199.99 for two at Best Buy (opens in new tab)
Save $300 This is the kind of reduction we like to see – true spirit of Black Friday right there. Best Buy was offering $200 off earlier this week, but increased the discount because why not?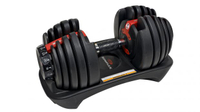 (opens in new tab)
Bowflex SelectTech 552 Adjustable Dumbbells: Was $275 Now $175 for one on Amazon (opens in new tab)
Save $100 One of the best adjustable dumbbells you can get, the SelectTech 552 is heavily reduced in the Amazon sale, with $175 being the cheapest we've ever seen it. It has a weight range of five to 52.5 pounds and is easily adjusted with the dial on the side.
Why You Should Buy The JAXJOX DumbbellConnect Instead Of The Bowflex SelectTech 552
The first key difference is the weight-changing mechanism. The Bowflex set uses a dial on either end which you twist to change load. The JAXJOX pair, meanwhile, use digital docking stations with up and down buttons to change their weight.
Both are easier than changing the plates on clunky spin-lock sets, but because you have to change dials on both ends of the Bowflex set, I think JAXJOX has the easier method. It also avoids the possibility of loading the dumbbells unevenly, which I admit has happened to me on a couple of occasions while using the Bowflex set.
But what really swings it for the JAXJOX is the design. The Bowflex can be quite clunky and the plates have a wide diameter which would, on occasion, knock me during exercises like biceps curls. The plates feel secure, but they do move a bit when lifted and the plastic coating gives them a cheaper overall feel.
The JAXJOX set, on the other hand, have a sleek, matte-grey metal finish. The plates are slimmer and not as wide, making them easier to wield. The plates also have built-in grooves designed to fit snugly together so you don't get any unwanted movement or rattling.
The central handle on the JAXJOX has medium knurling for great grip. Plastic buffers on either end also mean, unlike the Bowflex, they are held comfortably in a goblet position or for movements like triceps extensions.
Why You Should Buy the Bowflex SelectTech 552 Over the JAXJOX DumbbellConnect
The JAXJOX DumbbellConnect have eight weight options from 3.6kg to 22.6kg. The Bowflex SelectTech 552s trump this with a range of 2-24kg, and they also offer 15 different loads. If you're looking to make incremental gains or use these weights for lighter accessory movements like lateral raises, you may want to opt for the Bowflex offering.
Or, if you like to lift heavy, the Bowflex dumbbells are also available in a heavier 4.5kg-41 kg option (opens in new tab), although the price increases in line with the higher maximum load.
The other advantage the SelectTechs have over the DumbbellConnects is that they don't rely on electricity. The JAXJOX docking stations need to be charged up to work and while the battery life is five days, it is frustrating if you forget to charge them (happens to the best of us) and are left unable to change the weight. The Bowflex set, on the other hand, is mechanical, making them a good option for garage gyms where you might not have access to a mains socket.
Should You Buy The JAXJOX DumbbellConnect Or Bowflex SelectTech 552?
Both pairs have their advantages but I feel the JAXJOX pair are the better option. The compact design looks and feels better than the Bowflex SelectTech 552s, and I found them more manoeuvrable and secure. The shape is also more practical for bodybuilding-style movements like the dumbbell bench press, dumbbell pull-over and goblet squat, making them a great option for strength training at home. Saving £60 doesn't hurt either.
More UK Adjustable Dumbbell Deals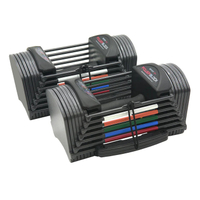 (opens in new tab)
PowerBlock Sport 24: Was £159.99 Now £139.99 at Sweatband (opens in new tab)
Save £20 We noted the RRP of these as £159 when we reviewed them, rather than the £199.99 Sweatband list, but no matter. These are a great option for people who are just starting strength training at home. Light enough for lateral raises, but heavy enough for squats. Well-built and secure, these are a recommended pick.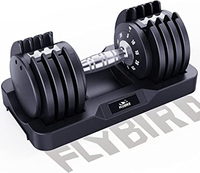 (opens in new tab)
Flybird Adjustable Dumbbell: Was £149.45 Now £114.44 on Amazon (opens in new tab)
Save £35.51 With weight options from 2.3kg to 11.3kg, this Flybird dumbbell is handy for performing lighter isolation lifts such as lateral raises (opens in new tab) and reverse flyes (opens in new tab) at home. You can pick one up for 23% less this Black Friday.
More US Adjustable Dumbbell Deals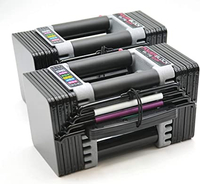 (opens in new tab)
Powerblock Elite EXP Adjustable Dumbbells Was: $449 Now: $305.99 on Amazon (opens in new tab)
Save $143.01 Powerblock is well known for its durable and reliable adjustable dumbbells. This Elite EXP set offers 15 weight options from 5lb to 50lb. You can also buy expansion kits to increase the maximum load to 70lb or 90lb.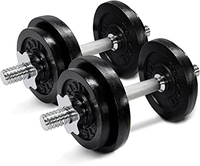 (opens in new tab)
Yes4All Adjustable Dumbbells 60lb Set: Was: $76.25 Now: $62.99 on Amazon (opens in new tab)
Save $13.26 Spin lock sets are the original adjustable dumbbells and while the weight-changing process takes longer than their dial and digital rivals, they're a darn sight cheaper. This Yes4All set has a range of interchangeable plates so you can alter the load from an empty 4lb bar up to 30lb in each hand. If you like lifting heavy, there is a 200lb pair available, though the 60lb benefits from a 17% Black Friday discount.
Sign up for workout ideas, training advice, reviews of the latest gear and more.
Harry covers news, reviews and features for Coach, Fit&Well (opens in new tab) and Live Science (opens in new tab). With over a decade of training experience, he has tried everything from powerlifting to gymnastics, cardio to CrossFit, all in a bid to find fun ways of building a healthy, functional body.