How To Buy The Best Mattress For You And Our Top Picks
Don't buy a mattress before reading this expert advice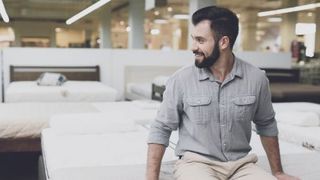 (Image credit: Unknown)
Sleep, as you may have noticed, makes a huge difference to how you feel, but it's increasingly being recognised as vital for good health in every part of your life – from your physical health (both your athletic performance and weight) to your mental health. And while we've made sure to provide you with plenty of tips to help you sleep better, or point you in the direction of sleep trackers and sleep apps to track the quantity and quality of your sleep, none of these will have as much effect on your shut-eye as the right mattress. So we thought we'd better weigh in with some expert advice and product recommendations for you to consider.
That expert is Simon Williams from the National Bed Federation (opens in new tab), who has 34 years' experience in the industry on both the manufacturing and retail side. Like all proper experts he knows that there's no substitute for trying the mattress yourself, but it can help to narrow down your options into a shortlist first.
Williams recommends looking at your lifestyle to help zero in on the right options. This includes things like whether you want a mattress that just needs to be rotated head-to-toe occasionally instead of flipping. Or if you value natural materials, or indeed if you're allergic to them and need to avoid them. If you are allergic, look for brands which work with charity or advocacy groups that add credence to the claims made.
And if you're tempted by a cheap model, look at the length of the full guarantee for an indication of whether you're getting value for money. "Generally speaking, better-quality suppliers will tend to offer more than just a one-year guarantee on a product – that's usually a sign of confidence," says Williams. "Five years is pretty good as a full guarantee and there are some top, top brands that will offer ten years."
Once you've got two or three mattresses in your sights, make sure to spend at least ten minutes lying on them. Try this simple test to see if a mattress offers appropriate support for you.
"To find a mattress that supports your body correctly, lie on your back then slide your hand underneath the small of your back," says Williams. "If you find that you can do it very easily that would suggest that the mattress is too firm because you're not sinking into it. If you find it incredibly difficult to slide your hand in then the mattress is definitely too soft for you. But if you can slide it in with a reasonable degree of ease then as a general rule that kind of tension on the mattress in the hip and lumbar area is about right for you."
Side sleepers should also spend a few minutes testing the mattress with their pillow from home, "because the pillow makes a massive difference to how much your shoulder goes into the mattress," explains Williams. "Lie on your favoured side for just a couple of minutes. You will soon find out whether or not it's too firm for you because you'll start to feel it in those pressure points in your shoulder."
Now you know what to look for, see if any of our top picks take your fancy.
---
Sealy Nostromo
Best pocket-sprung mattress
(opens in new tab)
Pocket-sprung mattresses are supportive and durable but also feel soft and bouncy thanks to the springs sewn into individual fabric pockets. This Nostromo mattress by Sealy features no fewer than 1,400 of them under a plush pillow top. The latex layer ensures it's breathable so it won't get damp if you get clammy, and it's designed to cater to sleepers of all styles and body types, making for a solid all-rounder. £536 (double), buy now from mattressonline (opens in new tab)
---
Leesa
Best bed-in-a-box mattress:
(opens in new tab)
Compact, convenient and affordable, the bed-in-a-box concept has changed the way people shop for mattresses, especially because all the major players offer risk-free trials. Mattresses by Leesa, one of the best of this new wave, are made from three layers of foam of varying density. The base provides strength and durability, the middle focuses on pressure relief and a final top layer concentrates on maximising airflow. That last one is crucial because foam mattresses tend to be on the warm side, but the cooling top layer doesn't get damp if you perspire. And it's not just you who will benefit from a better night's sleep – for every ten mattress sold, Leesa will donate one to charity. £599 (UK double), buy now from Leesa (opens in new tab)
---
Ikea Morgedal
Best budget mattress
(opens in new tab)
For no-frills naps, this Ikea Morgedal mattress is just the ticket. Its 7cm foam core base is topped with a 7cm layer of high-resilience foam and the whole thing moulds around your body so it's supportive. The cover is removable so it's easy to keep it fresh and clean, and it comes with a reassuring 25-year warranty. One thing to bear in mind is that it can get pretty warm, so if you're prone to sweating at night, it might not be right for you. £165 (standard double), buy now from Ikea (opens in new tab)
See related
---
Simba Hybrid Mattress
Best hybrid mattress
(opens in new tab)
For a best-of-both-worlds bounce, the Simba Hybrid brings together traditional pocket springs and foam layers. Made from five different materials, it features a 2cm layer of pocket springs as well as four additional layers of dense support foam and memory foam. It can feel a little warm but it offers a fantastic combination of comfort and support, and as with most bed-in-the-box options, you can sleep on it for 100 nights before deciding if it's the mattress of your dreams. And if it's not, returning it isn't a nightmare. £599 (double), buy now from Simba Sleep (opens in new tab)
---
Dunlopillo Royal Sovereign
Best mattress for back sleepers
(opens in new tab)
Sleeping on your back (or in the savasana pose if you want your zeds to sound more zen) is beneficial because it avoids putting pressure on your neck and spine. If you're a back sleeper, you'll want to invest in a mattress that provides comfy and supportive cushioning, and this Dunlopillo Royal Sovereign model is a great pick. It's slightly softer than your average mattress and features an all-latex core which holds its shape if you move around. It's built to go the distance – well beyond the typical seven-year rule – but bear in mind that it weighs a mighty 40kg and doesn't have handles so you may need a lie-down after rotating it. £1,265 (double), buy now from mattressonline (opens in new tab)
---
Casper
Best mattress for side sleepers
(opens in new tab)
One of the best-known bed-in-a-box brands, Casper has financial backing from some starry sleepers including Leonardo DiCaprio and Kylie Jenner Tobey Maguire. Beyond its A-list associations, it's an extremely comfortable mattress and provides great spine support for snoozers of all sizes. Made from four foam layers, including a sturdy base layer and a cooling top layer made from open-cell foam, it doesn't get damp on warm, humid nights and it doesn't sag either so it's built to last. £550 (double), buy now from Casper via Amazon (opens in new tab)
Sign up for workout ideas, training advice, reviews of the latest gear and more.