The Beurer LifePad Will Show You How To Give CPR In An Emergency
The LifePad is a resuscitation aid and will guide you through the CPR process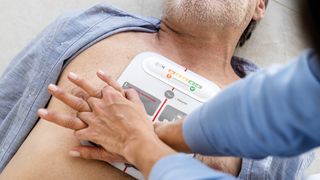 (Image credit: Beurer)
Even if you have had training, most people would appreciate on-the-spot guidance if faced with performing a resuscitation procedure (known as CPR) on someone who has gone into cardiac arrest. Especially since getting the rhythm and depth of compression right when trying to resuscitate someone is central to the chances of success.
The new Beurer LifePad will guide you through the whole process, helping to ensure you're performing CPR correctly in an emergency.
Once positioned on the chest, the LifePad shows you where to push and uses colour-coded lights and acoustic signals to help you get the rhythm and depth of compression right. A series of images on the pad shows you the steps to take when trying to resuscitate someone.
You follow the beat to time your compressions – 100 a minute – while lights at the top of the pad show if your compressions are deep enough. It's an upgrade on the often-taught approach of timing your compressions to the beat of the Bee Gees' "Stayin' Alive", but it's the depth measurement that might be particularly important, since it's hard work maintaining the correct pressure during CPR.
Even if you don't have any training in CPR beyond what you might have seen in TV shows and films, the LifePad can help you deliver effective and possibly life-saving assistance to someone in cardiac arrest.
"Over 30,000 cardiac arrests a year happen outside of hospitals," says Robert Slade, managing director at Beurer. "We're hopeful that consumers will see the benefit in having a LifePad close by, so we can ultimately help in saving lives."
The battery-powered pad is flexible so it can fit different body shapes of people aged 12 and over, and it's about the size of a tablet so easily portable. The pad can be wiped clean and reused, and is powered by a replaceable CR2032 battery. It's certified as a medical device under EU regulation and has launched in the UK and Germany, and the intention is to launch it in the US.
The LifePad costs £60 and is exclusively available at Argos (opens in new tab) in the UK.
Sign up for workout ideas, training advice, reviews of the latest gear and more.