Coach's Homemade Muesli Recipe
Mix up a batch of Coach-brand breakfast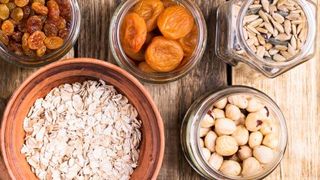 (Image credit: Unknown)
Eating the right breakfast is key to establishing a healthy dietary routine. There's only so much ground you can claw back with a salad at lunch if you've binged on two croissants first thing. There are plenty of targets to tick off – slow-release energy, protein, fibre – and making your own muesli allows you to construct your ideal first meal of the day.
RECOMMENDED: Healthy Breakfasts Worth Getting Up For
Coach spoke to Lucy Jackman, British Dietetic Association spokesperson, about the key ingredients to include.
Oats
Oats are normally the founding base of muesli. They're a carbohydrate source, and a complex carbohydrate with a slow release of energy why makes them right for the first thing in the morning as it keeps us going longer.
Seeds
Seeds are really high in protein, so they're quite a good addition to any breakfast, muesli or whatever you're eating. They contain your magnesium, zinc, iron, vitamin K, which is vital for metabolic processes in the body.
RECOMMENDED: Healthy Seeds to Add to Your Diet
Nuts
Almonds are a really good source of calcium. They're also high in protein. Brazil nuts contain the mineral selenium, which is important for our thyroid function.
Dried Fruit
Dried fruit has got all the nutrients that fresh fruit would have, only concentrated into a much smaller package. Raisins are really high in fibre.
Coach's Killer Muesli Recipe
With Lucy's advice on board, Coach constructed a simple and tasty recipe to help you start the day in the best way. Muesli is infinitely variable, so feel free to adjust the below to the amounts and types of nuts and seeds you favour.
1kg oats
200g flaked almonds
200g mixed seeds
150g chopped Brazil nuts
300g dried fruit mix
This is for a sizeable batch, not just one epic morning. Keep the ratios in mind when making up a larger batch to enjoy at your leisure – you don't want to go overboard on calorific nuts, seeds and raisins.
Sign up for workout ideas, training advice, reviews of the latest gear and more.