Unleash The Power Of Beetroot With This Delicious Dip
Supercharge your marathon training with this recipe from chef Dan Doherty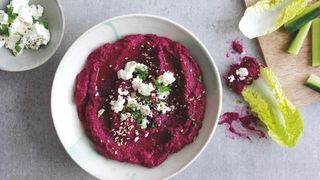 (Image credit: Unknown)
Your diet becomes extremely important when training for a big event like a marathon. Not only do you need to scoff enough carbs and protein to provide the fuel for a packed training schedule, but you also have to ensure you're eating healthily to avoid getting ill and scuppering your training.
But as well as the practical considerations, you also want to enjoy what you're eating. Plate after plate of plain chicken, broccoli and pasta might get the job done, but it's not inspiring stuff.
As chef director at Duck & Waffle in the City of London, Dan Doherty certainly has an edge when he's fuelling his own marathon training with tasty, healthy recipes. One ingredient that is a regular feature in his training diet is beetroot, which is proven to help the body cope with the demands of exercise.
"I've always eaten lots of beetroot," says Doherty, "before it became known just how good it is for us. I'm not really looking for so-called superfoods – I look for flavour and versatility, and beetroot has both in abundance.
"From a health perspective, beetroot is proven to help with muscle soreness and help your muscles recover from exercise, so it can be beneficial when you are training. It can also help boost stamina and make muscles work harder, alongside being packed with nutrients like vitamins A, B6 and C."
RECOMMENDED: It's Official: Beetroot Juice Can Improve Your Endurance
Beetroot is also a versatile ingredient, so there's no excuse not to add it to your diet in some form.
"You can drink the juice, use the veg in soups or roast it or pickle it, or use beetroot powder in shakes," says Doherty. "You can even slice it thin and fry it to make gorgeous little crisps.
"Alternatively, try some of the infused, pre-cooked ranges that are available at supermarkets. They have a range of flavours from sweet chilli to balsamic, which can add so much to a dish."
To get you started on your beetroot journey try Doherty's simple and tasty dip recipe.
Ingredients
Serves 4
200g mild malt beetroot
50g feta cheese
20g tahini
Drizzle of olive oil
1tsp sesame seeds, black and white
Zest and juice of 1 lime
Large pinch of finely chopped flat-leaf parsley
Sea salt and black pepper
To make
1. In a food processor, blend the beetroot, tahini, lime juice and ¾ of the feta cheese until completely smooth, adding a tablespoon of water if needed to get it going.
2. Toast the sesame seeds in a dry pan over a medium heat and set aside to cool.
3. Spoon the beetroot purée into a pot, and crumble the remaining feta on top. Drizzle with olive oil and sprinkle the seeds, parsley, grated lime zest, salt and pepper over it to finish. Serve with crudites if feeling healthy or plain tortilla chips if not.
Dan Doherty is a partner of Love Beetroot (opens in new tab). For more inspiration on your marathon-training menu, we'd heartily recommend checking out his Instagram: @dandoherty_ (opens in new tab).
Sign up for workout ideas, training advice, reviews of the latest gear and more.