Diversify Your Diet With This Banana And Coconut Overnight Oats Recipe
There are nine different plant foods in this simple breakfast recipe, which is great for your gut health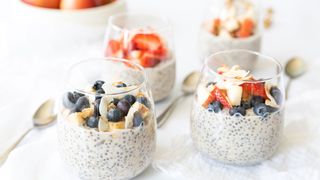 (Image credit: Dr Joan Ransley)
If you're aiming to improve your gut health through your diet, there are a couple of key targets you should try to hit each week. The first is to eat enough fibre, and the second is to vary your sources of fibre and nutrients by eating at least 30 different plant foods per week.
Hitting both targets is good for more than just your gut health. It will benefit you in all sorts of ways, bringing a variety of essential vitamins and minerals into your diet.
It's also relatively easy to hit both targets once you get into the habit. While eating 30 different plant foods in particular might sound tricky, you can easily tick off between five and 10 of those in one meal if you plan it right.
This overnight oats recipe, for example, contains at least nine plant foods (more if you go wild with the chopped fresh fruit). The recipe, which has been created by Dr Joan Ransley for Love Your Gut Week, obviously also contains oats, which contain two types of dietary fibre. It's the perfect way to start a gut-healthy day, and takes just 15 minutes to prepare the night before. The oats will also last in the fridge for up to three days, so you can make a few servings at once.
Banana And Coconut Overnight Oats
Method
Place the oats, chia seeds, milk, yogurt, walnuts, dates and banana in a large bowl. Add 20g of the coconut shavings and mix well. Cover the bowl and place it in the fridge. It will be ready to eat after two hours but can be left in the fridge overnight (hence the name) and eaten the next day. Oats and chia seeds are very absorbent and will continue to soak up milk for several hours. Add more milk or water to the overnight oats if you think they have become too thick.
Serve the overnight oats with a mixture of chopped fresh fruit, the remaining coconut flakes and a few chopped nuts. Add a drizzle of maple syrup if you like.
Ingredients (Serves Four)
100g oats
15g chia seeds
300ml semi-skimmed milk
100g plain yogurt
40g walnuts
40g dates, pitted and roughly chopped
1 banana, peeled and chopped into small cubes
30g coconut flakes
60g chopped fresh fruit (eg apples, blueberries, strawberries)
30g nuts (eg chopped almonds, pecans)
10g maple syrup (optional)
For more recipes visit loveyourgut.com
---
More About Gut Health
Sign up for workout ideas, training advice, reviews of the latest gear and more.