Eat Seasonally With This Thai Yellow Curry Recipe
Pumpkins: not just for Halloween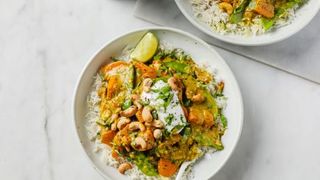 (Image credit: Unknown)
We're not going to judge you if the only time you ever consider buying a pumpkin is to carve it for Halloween, but you should know that the flesh is as tasty as any other squash (at the least ones grown for eating, not carving) – and it's the star of this dish from dairy-free brand Cocos Organic.
The recipe comes in two parts. The first explains how to make a yellow curry paste you can store to use for multiple curries, and the second tells you how to use your paste to make a Thai yellow curry.
Thai Yellow Curry Paste Recipe
Ingredients
3tbsp coconut oil
1 onion, roughly diced
8 garlic cloves, peeled and halved
30g ginger, peeled and cubed
1 large red chilli pepper or 2-4 small Thai red chillies, to taste
1tsp sea salt
1tbsp ground turmeric (or 18g fresh turmeric, peeled and cubed)
1tbsp mild curry powder
1tsp ground coriander
1tsp ground roasted cumin (or ground cumin)
1 lemongrass stalk (18g), bashed and chopped
3tbsp fresh coriander, roughly chopped
1 kaffir lime leaf or zest of 1 lime
Method
Heat the coconut oil in a nonstick pan.
Add all the ingredients except the fresh coriander and cook for five to eight minutes until soft and fragrant.
Add to a food processor with 70ml of water and the fresh coriander. Blitz into a smooth paste.
Store in the fridge in a sealed container for up to one week or in the freezer for up to three months.
See related
Thai Yellow Curry Recipe
Ingredients (Serves Four)
1tbsp olive oil or coconut oil
½ small onion, sliced
300g pumpkin, peeled and cubed
125g baby corn, halved lengthways
80g mange tout, sugar snaps or green beans
2 carrots, peeled and sliced in rounds
⅓ cup Thai yellow paste (half of the above)
400ml can coconut milk
To serve
Empty listCocos Organic coconut milk yogurt alternative
Lime juice
Fresh coriander
Rice
50g toasted cashews
Method
Heat 1tbsp of oil in a nonstick frying pan.
Add the onion, carrots and pumpkin, and cook until just tender, about six to eight minutes.
Add the curry paste. Stir to combine and cook for one minute.
Add the coconut milk and stir again. Bring to the boil, then lower the heat to a simmer. Cook for 10-15 minutes until the curry has thickened and the veggies are cooked to your liking.
Season to taste and add a squeeze of lime.
Serve with rice, coriander, toasted cashew nuts and coconut yogurt alternative.
Sign up for workout ideas, training advice, reviews of the latest gear and more.