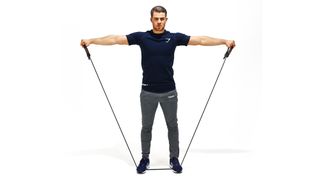 (Image credit: Unknown )
Resistance bands rarely have pride of place on a gym floor, often tucked away in a dusty box underneath yoga mats. But that's good news for you, because it'll be easy to get your hands on this brilliant and versatile bit of kit that can enhance your workouts – and can be used at home or on the road.
"Bands place continuous tension on the muscle being trained, unlike free weights where there's only tension on the lifting part of a move, so they force more muscle fibres to be recruited during every stage of every rep," says trainer Bradley Simmonds. And because they don't rely on gravity like all other kit they can also be used for exercises that mimic natural movement patterns, such as band pull-aparts, to strengthen those important muscles that often get neglected during more traditional lifts.
When band moves are combined in a high-intensity workout like the one demonstrated by Simmonds here, they'll help you sculpt more defined muscles as well as getting your heart rate high. And that will forge a better body in minimal time and effort, wherever you are.
How it Works
This circuit takes advantage of the peripheral heart action (PHA) training theory, which says that alternating between upper-body and lower-body moves means your heart and lungs have to work overtime to pump blood around your body and keep your muscles working hard. This high-intensity approach has been shown to burn fat, and the constant muscular tension the band demands means you'll also get a good muscular pump, which is important for making new muscle tissue grow.
Directions
Perform exercises 1 to 4 in order for 30 seconds at a time, but instead of resting between moves do 30 seconds of exercise A (speed skater), which will keep your heart rate high throughout the workout. The final set of speed skaters after exercise 4 completes one circuit. Rest for 60 seconds, then repeat. Do a total of four circuits. You should complete the entire session in just 20 minutes.
1. Overhead press
Time 30sec
Stand on the middle of the resistance band and hold the ends at head height, palms facing forwards, making sure there's tension throughout the band. Keeping your core and glutes tensed, press your hands directly overhead, keeping your elbows close to your head, then return to the start.
Time 30sec
Continue to stand on the resistance band. Start with your hands by your sides, palms facing each other. Looking straight ahead, raise your arms out to the sides to shoulder height, leading with your elbows, then return to the start. If you start to fatigue, limit the range of motion to only halfway up to keep your shoulders working.
3. Biceps curl
Time 30sec
Hold the handles by your sides, palms facing forwards, making sure there's tension in the band. If you need to increase the tension, widen your stance so the sections of the band involved in the move are shorter. Keeping your elbows close to your body, curl your hands up towards your shoulders, then return to the start.
Time 30sec
Hold the resistance band taut with your arms out in front of you. Keeping your arms straight, chest up and shoulder blades retracted, pull the band wide apart to open up your chest. Pause with your arms at their widest, then return to the start.
A. Speed skater
Time 30sec
Run on the spot and hop sideways onto one foot, then hop across to the other foot, alternating sides and driving your arms with each move. Start small and build up to big, explosive strides to work your body harder.
Sign up for workout ideas, training advice, reviews of the latest gear and more.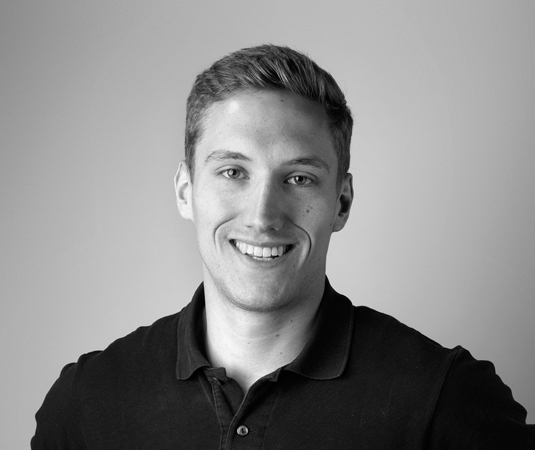 Sam Rider is an experienced freelance journalist, specialising in health, fitness and wellness. For over a decade he's reported on Olympic Games, CrossFit Games and World Cups, and quizzed luminaries of elite sport, nutrition and strength and conditioning. Sam is also a REPS level 3 qualified personal trainer, online coach and founder of Your Daily Fix. Sam is also Coach's designated reviewer of massage guns and fitness mirrors.