Medicine Ball Exercises For Abs
Using a heavy medicine ball will add a new dimension to your workout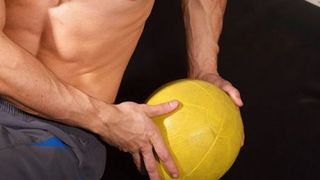 (Image credit: Unknown)
The medicine ball is one of the most underrated bits of fitness equipment, particularly for working your core. Armed with a medicine ball you can challenge your abs in a wide variety of ways.
For starters a medicine ball is a weight you can use to add resistance to exercises like crunches by holding it aloft or against your chest. Then you can also use one as an unstable base to rest on during moves like press-ups, with that instability forcing your core muscles to work harder for the duration of the exercise.
Most enjoyable of all, some medicine balls can be used for exercise like slams and throws (in the right environment, of course). These moves are both great for your core strength and a terrific way to relieve frustration.
Assuming you're convinced, you'll need a medicine ball, and you can use this collection of the best medicine balls to get one delivered to your door. Then you'll find an array of medicine ball exercises for abs to try below. Or you can use this medicine ball abs workout to string a few great exercises together into one challenging session. Enjoy.
Beginner Exercises
One leg slam down
Stand on one leg and hold the ball overhead. Bring the ball down powerfully and throw it to the floor. Keep your core strong throughout the move.
One leg overhead toss
Stand on one leg and hold the ball overhead. Toss the ball from hand to hand, keeping your body upright and steady throughout.
Standing throw
Stand in a split stance, with one foot in front of the other. Bring the ball back over one shoulder, turning your torso to that side. Powerfully twist your body back to centre and throw the ball to a partner or against the wall.
Intermediate Exercises
Pullover crunch
Lie with the ball held straight out behind your head. Lift your shoulders and lower back off the floor and bring the ball down in front of you.
Hold the ball between your knees with thighs vertically aligned. Curl your knees towards your chest by lifting your hips off the floor. Pause at the top of the move and lower slowly to start.
Side throws
Hold the ball with straight arms in front of your chest. Twist your torso to one side, then powerfully twist to other side and throw the ball to a partner.
Round body pass
Sit with your body leaning back and feet held off the floor. Maintain that position while moving the ball around your body. Reverse the direction of the ball from time to time.
Advanced Exercises
Crunch throw
Hold the medicine ball against your chest. Curl your shoulders off the floor powerfully and throw ball to partner. Catch the ball and return slowly to start.
Sledgehammer
Stand with your feet apart and hold the ball overhead. Bring the ball down powerfully between your knees and return. Keep your back straight and core muscles tensed throughout.
Medicine ball leg drops
Grasp the ball between your feet and hold your legs straight up. Slowly lower your legs until your feet are just above the floor. Return to start and repeat.
Sit leaning at about 45° to the floor and keep your back straight and knees bent. Hold the ball with straight arms and twist your torso to one side. Twist from side to side, keeping back straight throughout.
Lunge woodchop
Stand straight and lift the ball over one shoulder. Step forward and lower into a lunge with your front knee over your front foot. Chop the ball down and across your body, keeping your back straight.
Sign up for workout ideas, training advice, reviews of the latest gear and more.
Former editor of Men's Fitness UK
Joe Warner is a highly experienced journalist and editor who began working in fitness media in 2008. He has featured on the cover of Men's Fitness UK twice and has co-authored Amazon best-sellers including 12-Week Body Plan. He was the editor of Men's Fitness UK magazine between 2016 and 2019, when that title shared a website with Coach.