Beat The January Blues With Brew Monday
Have a cup of tea and a chat with someone close to you on Blue Monday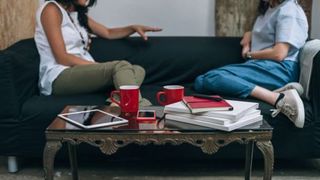 (Image credit: Unknown)
The third Monday of the year is a notoriously tough day to get through in a positive frame of mind, thanks to a 2005 press release about "Blue Monday" that took on a life of its own. This is when you can expect to be reminded that the joys of Christmas and New Year are well in the past, spring is a long way off, and you're facing down the bone-chilling dark days of midwinter – plus the start of another working week.
Since it has become such an infamously depressing day, the good people at Samaritans have stepped up to try and counter it with their initiative Brew Monday, which encourages people to have a tea and a chat with a member of their family, or a friend or colleague, to help talk over any problems they might be having, as well as fundraise for the charity.
You can sign up for a free Brew Monday kit on the Samaritans website which includes some special teabags, fundraising advice and little Brew Monday cake flags if you're having a slice of something sweet with your tea. Over 100 train stations will also take part in the event, with stands in place to hand out the teabags and discuss the work done by Samaritans.
"We want to banish those so-called January blues and Brew Monday is a great opportunity to reach out to someone who's struggling, while raising money to keep the service running around the clock," says Beth Simons, community fundraising manager at Samaritans.
"It doesn't have to be tea, or even a Monday! Juice, coffee or fizz on any day will do the trick. Sign up for your Brew Monday pack and we'll send you everything you need to make your tea party a triumph!"
If you want to work out as well as having a nice cuppa on Blue Monday, then you can take advantage of DW Fitness First's Red Monday event, where the gym chain opens up the doors of every branch to all comers so you can lift your spirits with a rigorous training session.
Sign up for workout ideas, training advice, reviews of the latest gear and more.