Spiced Salmon Fillet Recipe
One serving of this flavour-packed grilled salmon contains just 322 calories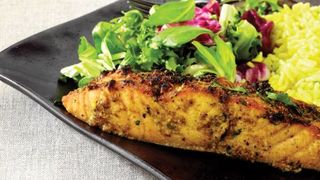 (Image credit: Unknown)
This tasty salmon dish will keep you feeling full as well as helping repair and build muscle. Salmon provides around 24g of protein per 100g serving, putting it among the top high-protein foods. Salmon is also a good source of omega-3, which has plenty of established health benefits.
This quick-to-make fish supper packs a punch in the flavour department too, with chilli, lemon and plenty of spices giving it a zingy kick. It's an ideal recipe to use if you're following a weight loss meal plan for women or a weight loss diet plan for men.
Spiced Salmon Fillet Recipe
This recipe was provided by Kumud Gandhi, founder of The Cooking Academy (opens in new tab) where you can take one of her cookery classes.
Method
Place all the ingredients except the fish in a bowl. Mix well, then add the fish and mix again.
Cook under a hot grill for 10 minutes, placing fish 10cm away from the heat, or cook in the oven for 20 minutes at 180˚C/gas mark 4.
Ingredients (Serves Two)
2 pieces of salmon fillet
2tsp vegetable oil
1tbsp lemon juice
½tsp chopped garlic
½tsp ground cumin
½tsp ground coriander
¼tsp black pepper
Pinch of salt
Pinch of red chilli powder
Pinch of turmeric
Pinch of fresh coriander
Nutrition
We let Myfitnesspal, one of the best weight-loss apps for calorie counting, crunch the numbers for us, giving approximate nutritional quantities for all the ingredients in this recipe. This simple serving of grilled fish comes in at 322 calories per serving. That breaks down into 29g of protein, 22g of fat, just 3g of carbs, and 1g of fibre.
---
More Salmon Recipes
Sign up for workout ideas, training advice, the latest gear and more.
Lucy Miller is an experienced journalist who has worked across a range of health and fitness titles. She was the fitness and nutrition editor at Men's Fitness UK, and has also been fitness editor of both Health & Fitness UK and Women's Fitness UK. Lucy qualified as a NASM-certified personal trainer and nutritionist in 2008.