The Best Weight-Loss Apps
Get a little help from your smartphone reaching a healthy weight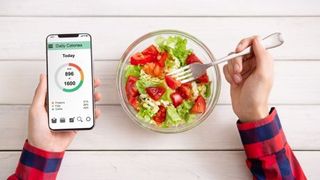 (Image credit: unknown)
There is no app, tip or trick out there that can make losing weight easy. If there was, you'd definitely know about it by now. Losing weight means changing your habits and lifestyle – no easy task, and one which can be a frustrating experience at times.
However, there are certainly things that help make reaching a healthy weight quicker than otherwise, and finding the right app is one of them. The best weight-loss apps out there offer support from experts and a friendly community alongside advice on how to improve your diet and become more active. Although there are good free weight-loss apps, you do generally have to pay for them, especially when they include regular advice from experts like dietitians and/or personal trainers. However, the cost is usually under £10 a month, and the benefits you get are well worth the outlay.
At the free and cheap end of things are apps that are built around calorie counting. Getting a handle on how many calories you're consuming vs how many you're burning will help you work towards creating a calorie deficit, which in turn will help you lose weight. However, calorie counting is rarely exact and logging everything you eat and drink before you've even swallowed can make trying to lose weight even more of a chore, so it's usually best to use the apps as a rough guide rather than obsessing over the precise numbers.
NHS Weight Loss Plan app
This entirely free app was launched as part of the UK government's Better Health campaign. It contains a 12-week programme to help you eat more healthily and get more active so that you ultimately lose weight. The design of the app is simple, with checklists to help you record your weight, calorie intake and activity, and a target weight based on your BMI. nhs.uk/better-health
Download from App Store and Google Play | Free
WW
WW is the new name of Weight Watchers, which represents a step away from the negative associations with diet plans, but shouldn't lessen the effectiveness of its weight loss plans. Although the app is free, you will require a subscription to get the most out of it, with digital memberships starting at £2.59 a week.
The app now offers more than just ways to improve your diet – although of course you'll still get plenty of healthy eating advice – with tools to help improve your sleep, mindset and activity levels. You begin with an assessment of your lifestyle to highlight the most relevant advice to kick-start your weight-loss plan.
In the app you'll also find ways to track your weight, activity, and calorie and water intake, along with thousands of recipes, free audio and video workouts, and online coaches who are available 24/7 to help you if you're struggling to stick with your programme. weightwatchers.com
Download from App Store and Google Play | Free, membership from £2.05 a week
Noom
The focus is very much on mindset with this app, which aims to help you hit a variety of goals including weight loss by changing your behaviour. Noom provides tips and coaching to help you break out of the cycle of yo-yo dieting and instead build healthy habits that will last a lifetime. Once you sign up for the full membership you get help in setting your goals as well as coaching to keep you on track, with customised meal and workout plans available. noom.com
Download from App Store and Google Play | Free, premium £7.99 a month, £14.99 for three months, £39.99 a year
Second Nature
Alongside working on improving your diet and activity levels, Second Nature (once called OurPath) puts a lot of focus on mindset, teaching you how to eat mindfully and overcome the setbacks almost everyone encounters when they try to lose weight. You get a personalised three-month plan that includes weekly goals set by your online health coach, who will be a registered dietitian or qualified nutritionist, and you also get access to a supportive community you can chat with in the app.
Second Nature is on the more expensive end of weight-loss apps, starting from £40 a month for the three-month plan, but the advice – especially with regard to healthy eating – is designed to be sustainable, avoiding things like calorie counting which many people find hard to maintain, so after that three-month period you should be set up to keep the weight off. secondnature.io
Download on App Store and Google Play | From £30 a month
MyFitnessPal
The most popular free weight-loss app out there (although there is a paid premium version too) helps you to keep a food diary, setting an overall calorie target plus a breakdown of the protein, carbohydrate and fat you want to eat each day. You can log what you eat manually, or by using a barcode scanner or searching for the exact food you've eaten, which provides a more detailed macronutrient breakdown.
You can export this information to a lot of other fitness apps, like Fitbit for example, which makes it easier to see how what you're eating fits with your exercise programme. If you go premium you get more detailed insight into what you've eaten and you can log goals around individual meals and the exercise you've done. myfitnesspal.com
Download on App Store and Google Play | Free, premium £7.99 a month
See related
Lifesum
There are a range of diet options available on Lifesum and the app will help you determine the one that suits you best through a quiz when you first sign up. You can be assigned a low-carb diet or a high-protein one, for example, and the app will provide a detailed meal plan to help you hit your goals. The app includes plans for some diets that the British Dietetic Association has labelled "fads", like the ketogenic, intermittent fasting and clean eating diets. We recommend sticking to the plain healthy balanced plan.
Lifesum also offers a standard calorie counter with barcode scanning if you want to keep things simple, and it syncs with other health apps. There is a free version of Lifesum that you can use to keep a food diary, but you'll need a premium account to access the meal plans. lifesum.com
Download on App Store and Google Play | Free, premium £7.99 a month
Lose It!
While there are certainly benefits to a more holistic approach to losing weight that takes into account the mental side of it, the simplest way to look at it is if you consume fewer calories than you burn, you're on the right track. Lose It! is all about this simple approach. It gives you a personal daily calorie target and you can then log your food and activities in the app to see if you're sticking to it.
There are meal plans, recipes and workouts on the app to help you out, and you can log what you eat by taking a photo of it, which makes the process even easier than using a barcode scanner – although this doesn't always work, so you have the option to log everything manually too. The free version of the app is impressively full of features and covers everything you really need, though naturally you can get more helpful insight and content by upgrading to premium. loseit.com
Download on App Store and Google Play | Free, premium £34.99 a year
Sign up for workout ideas, training advice, reviews of the latest gear and more.