Wholemeal Scampi Salad
Fuel your workouts with this delicious high-protein dish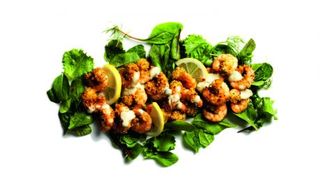 (Image credit: Unknown)
Scampi: it's not just something on pub menus, you can make this version yourself in around ten minutes. The classic breaded prawn dish is high in protein as well as being filling and delicious. Like our other protein-rich salads, this is an ideal meal to make if you're following a muscle-building training plan. As well as being a high-protein food, prawns are environmentally sound and chefs such as Heston Blumenthal are making the scampi into a gourmet delight.
This easy-to-cook version offers 50g of muscle-building protein, while wholemeal batter ensures you won't suffer blood-sugar spikes and tartare sauce provides insulin-regulating chromium.
Wholemeal Battered Scampi And Salad Recipe
764 calories
Ingredients (Serves One)
75g wholemeal flour
100ml milk
200g raw king prawns, peeled
2tbsp rapeseed oil
1tbsp diced shallots
2tbsp diced gherkins
1tsp chopped parsley
1tbsp capers
1tbsp mayonnaise
Juice of ½ a lemon, plus slices to serve
½ a bag of mixed salad leaves
Method
Whisk the flour and the milk together in a bowl. Dip the prawns in the mixture. Fry them in the oil in a deep pan for three to four minutes. For the tartare sauce, mix the shallots, gherkins and parsley with the capers, mayonnaise and lemon juice. Serve the scampi on a bed of salad leaves. Garnish with the sauce and lemon slices.
Nutrition
We used Myfitnesspal, one of the best weight-loss apps for calorie counting, to calculate the approximate nutritional values of this recipe. This meal contains 764 calories, and provides 64g of carbohydrates, 53g of protein, 32g of fat and 9g of fibre.
Prawns
As well as being a low fat source of protein, prawns provide selenium which boosts immunity.
Lemon
Packed with vitamin C, lemons also provide flavonols which protect against cancer.
Gherkins
These pickled cucumbers provide silica which is necessary for strong ligaments and tendons.
---
More Seafood Recipes
Sign up for workout ideas, training advice, reviews of the latest gear and more.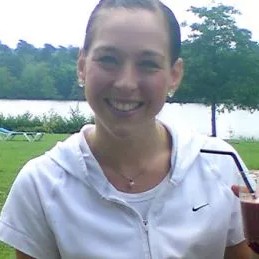 Lucy Miller is an experienced journalist who has worked across a range of health and fitness titles. She was the fitness and nutrition editor at Men's Fitness UK, and has also been fitness editor of both Health & Fitness UK and Women's Fitness UK. Lucy qualified as a NASM-certified personal trainer and nutritionist in 2008.