Lemon Crab Salad
This tasty crab salad is high in protein and packed with nutrients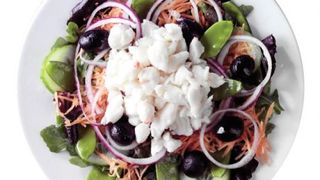 (Image credit: Unknown)
Full of punchy flavours and crunchy veg, this delicious salad couldn't be easier to make. Rather than chugging the same protein powder shake after your workout, try varying your protein sources. Using tinned crab is a convenient and cheap way to take on some protein as well as omega-3 fatty acids, which are crucial for brain health, according to nutritionist Rhiannon Lambert – you can read more about the benefits of omega-3 fatty acids in this article.
This satisfying salad makes a great post-workout meal: the high protein content will help you pack on muscle and fill you up so you're not so tempted to snack on junk. You'll find more on high-protein foods and protein-rich salad recipes in the nutrition section on our website.
Lemon Crab Salad
364 calories
Ingredients (Serves One)
1 bag of mixed salad leaves
½ a red onion, sliced
Handful of black olives
Handful of cucumber slices
sugar snap peas
1 carrot, grated
125g can of white crab meat
1 tbsp lemon juice
1 tbsp olive oil
Method
Mix the salad leaves with the red onion, olives, cucumber slices, sugar snap peas and grated carrot. Top with the white crab meat and dress with the lemon juice and olive oil.
Nutrition
We used the calculator on Myfitnesspal, one of the best weight-loss apps for calorie counting, to give us an idea of the nutritional values of this recipe. This tasty salad contains a very modest 364 calories, and provides 25g of carbohydrates, 23g of protein, 15g of fat, and 8g of fibre.
Red onion contains vitamin C and chromium, a mineral that helps insulin response, stopping sugar cravings.
Carrots are high in the soluble fibre calcium pectate. This fills you up and binds with acids in the body to reduce cholesterol levels.
Crab meat is a great source of protein. It's low in fat and calories but rich in omega-3 fatty acids, which can reduce hunger pangs and help muscle growth. It also contains phosphorus, a mineral that is essential for bone health. Other nutrients found in crab meat include selenium, vitamin B2 and copper, all of which contribute to a healthy brain and nervous system.
Olives have omega-3 fatty acids that trigger hunger-curbing signals in your brain. They are also rich in vitamins A, C and E.
---
More About Healthy Eating
Sign up for workout ideas, training advice, reviews of the latest gear and more.
Lucy Miller is an experienced journalist who has worked across a range of health and fitness titles. She was the fitness and nutrition editor at Men's Fitness UK, and has also been fitness editor of both Health & Fitness UK and Women's Fitness UK. Lucy qualified as a NASM-certified personal trainer and nutritionist in 2008.