What To Eat After A Workout
What to eat and when to eat it to get the most from your training session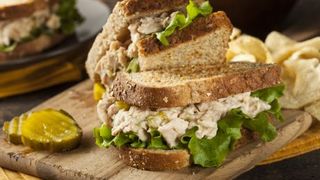 (Image credit: Unknown)
If you're anything like us, once you've powered through the final few reps of your workout your mind quickly turns to what you're going to eat after your session. In fact, our mind tends to focus on that for most of the second half of our workouts, especially if they're at lunchtime.
What you eat after you've finished needs to be both satisfying and support your efforts, because you deserve a reward but also want to give your body the fuel it needs to rebuild and recover.
We asked Georgina Camfield, a registered associate nutritionist at AXA PPP healthcare, for her advice on what to eat and when after a workout, and then enlisted Charlotte Lily Thompson, a registered associate nutritionist, for two recipes that you can use to refuel after your training.
What are the macronutrients you need after a training session?
The three macronutrients are fat, protein and carbohydrate, and commonly we place a lot emphasis on protein. That is very important – it is needed after a session to repair the muscles and also for muscle growth. However, we also need carbohydrates because they stimulate insulin, which is needed to take up protein into the muscles. So without the carbohydrates we don't take in that protein as efficiently. Fats don't play as much of an important role, so the focus is on a mix of protein and carbohydrate.
How quickly after a workout should you eat?
The sooner the better, and ideally within 45 minutes. This is known as the anabolic window of opportunity, and the theory is that it is the optimal time for nutrients to be absorbed. Immediately after exercise our stores may be replenished quicker because the muscle tissue becomes sponge-like in its absorbency, particularly of glycogen from carbohydrates, which is a fuel source during exercise. We can then maximise our energy stores to enhance performance in the next exercise session.
Protein is less urgently needed during the immediate post-exercise period. It's the steady intake of protein throughout the day that has the most impact on muscle protein synthesis, which is crucial to muscle recovery and growth.
It's important to remember that the benefits of eating immediately after exercise will be minimal if you are only training once a day and are eating well throughout the remainder of the day. In other words, focusing on the quality of the food that you are eating at all times is key. When you've achieved a healthy, well-balanced diet, or you are looking to take your training to the next level, that's when you may wish to turn your attention to more advanced methods such as nutrient timing.
If you're training a few times a week, do you need to consider what you eat after a workout?
If you want to get the most out of your workouts then fuelling efficiently before and after exercise is going to have benefits, whether you're training every day or just a few times a week.
How much protein should you have after a workout?
The most efficient amount in terms of uptake into the body is 20-25g. Any more than that is going to go to waste – our body isn't going to take it in. Rather than having a bigger block of protein later, you're better off having that 20-25g straight after and then spreading similar portion sizes throughout the day afterwards.
Should you vary what you eat depending on the kind of workout you do?
If you're burning more calories by doing a higher-intensity workout, you might need to increase your calorie intake a little bit to replenish your stores. If you're focusing on building muscle mass then you might need a little more protein, and if you're training for endurance events you would place more emphasis on carbohydrates.
Should you stick to real food if possible or use supplements?
The main benefits of supplements are that they're quick and easy, particularly if you're pushed for time after a workout, or you can't store food throughout the day. However, I'm a big promoter of real food. The benefit is that you're going to get a lot more nutrients – a wider variety of vitamins and minerals – that you're not going to get from a protein shake.
Another benefit of supplements is when you're training multiple times a day. If you have less than six hours between training sessions, then protein shakes can be an efficient way to get that fuel in.
---
See related
---
Should what you eat differ depending on the time you train?
The same things can be used any time, but it depends on personal preference. You might not want to eat a tin of tuna at eight o'clock in the morning – you might go for Greek yogurt instead.
Do you need to also consider what you drink?
Just hydrating with water is going to be best. That is one benefit of having a shake rather than food – you're getting some liquid as well. Isotonic drinks aren't really needed if you're eating. Quite often isotonic drinks like Lucozade can add in unnecessary calories.
Post-Workout Recipes
Almond And Apricot Protein Bar
"This one is designed for maximum nutrition with minimum fuss," says Thompson. "There's no baking involved – these are cold pressed, a technique which is all about the order in which you add your ingredients. Almonds are one of my favourite snacks for replenishing the energy used during a workout. These bars are particularly dense in potassium, phosphorus, magnesium and zinc, as well as vitamin E.
"The bars are great to eat as a meal replacement or to snack on in smaller portions throughout the day. Whip them up before you exercise and they'll be chilled and ready for when you need them."
Ingredients (Serves One)
30g almonds
15g honey
30g dried apricots
15g rolled oats
15g chia seeds
10g coconut oil
20g Naturya hemp protein powder (optional)
Method
Blend the almonds, chia seeds, hemp protein, coconut oil and honey into a paste.
Add the oats and apricots, then blend until you've got a fairly smooth consistency.
Mould the paste into a bar (or large cookie if you prefer) and chill in the fridge for at least 30 minutes before eating.
Nutritional Information (Per 135g Serving)
Calories 536 (27%)
Fat 31g (44%)
-Sat fat 8g (41%)
Carbohydrate 32g (13%)
-Of which sugars 23g (26%)
Fibre 20g (80%)
Protein 21g (42%)
Salt 0.07g (1%)
---
Smoked Mackerel With Orange Caraway Beets And Bistro Salad
"This dish is a great way to get your five-a-day," says Thompson. "Beetroot is packed with iron, magnesium and folate, and its juice has been shown to help improve blood flow to the brain and enhance exercise performance so it's the perfect addition to any post-workout meal. Mackerel is a tasty and sustainable source of protein, and the dill from the roast potatoes really complements the flavour of the caraway and orange beetroot. Plus the vitamin C from the orange helps maximise absorption of all the other nutrients!"
Ingredients (Serves One)
180g smoked mackerel fillets (ready to eat)
75g asparagus
40g beetroot
110g new potatoes
1tsp caraway seeds
100ml orange juice
50g bistro salad
90g baby corn
70g mini peppers
5g fresh dill
1tbsp rapeseed oil
Small pinch of salt
Crushed black pepper, to taste
1tsp butter
Method
Preheat the oven to 200°C.
Peel and thinly slice the beetroot, lay them in an oven-proof dish, and add the orange juice and caraway seeds. Cover with foil and put in the oven. Set a timer for 30 minutes, after which the beets should be al dente.
After you put the beets in the oven, cut the new potatoes in half, add them to a pan of boiling, slightly salted water and simmer for 10 minutes. Drain, add some black pepper and put them in the oven.
Drizzle the mini peppers with rapeseed oil and a sprinkle of salt, and add those to the oven too. At this stage there should be about 15 minutes left on your timer.
Remove any woody ends from the baby corn and asparagus and steam them for five minutes. Prep your plate with the bistro salad.
Drain the corn and asparagus, then add the butter and toss.
Add your potatoes to the plate and sprinkle a generous amount of dill over for a little extra fragrance.
Add the beetroot, corn, asparagus, and chilled mackerel to your plate of salad.
Nutritional Information (Per 635g Serving)
Calories 699 (35%)
Fat 42g (60%)
-Sat fat 9g (46%)
Carbohydrate 29g (11%)
-Of which sugars 13g (14%)
Fibre 11g (44%)
Protein 47g (94%)
Salt 3.8g (63%)
Sign up for workout ideas, training advice, reviews of the latest gear and more.