Vegan Spiced Bean Stew With Soba Noodles
Refuel with this nutritionally hard-hitting spiced borlotti bean stew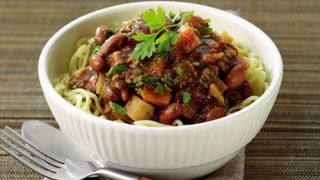 (Image credit: Unknown)
A potent mix of spices allows borlotti beans and root vegetables to shine in this vegan recipe which packs in 27g of protein per portion. Don't be put off by the long list of ingredients, you're likely to have most of them in your kitchen cupboard already. Buckwheat noodles are a tasty and nutritious alternative to wheat or rice noodles, and they'll keep you feeling full for longer. You can batch cook the bean and veg stew and freeze portions, or eat them later in the week.
Interested in following a vegan diet? Here's what you need to know about the vegan diet, the best sources of protein for vegans and our pick of the best vegan cookbooks.
Vegan Spiced Bean Stew With Soba Noodles Recipe
689 calories per serving
Ingredients (Serves Three)
2tbsp olive oil
2 small onions, chopped
2 cloves garlic, crushed
1tsp chopped root ginger
1tsp fennel seeds
1tsp coriander seeds
1tsp cumin seeds
1tsp ground cinnamon
2 medium sweet potatoes, cubed
400g can borlotti beans
2 carrots, sliced
whole celeriac, chopped
250g button mushrooms, halved
2tbsp tomato purée
Handful of fresh parsley
Salt and ground black pepper for seasoning
200g (dry weight) Japanese soba noodles
Method
In a large pan, heat the oil and gently fry the onion, garlic, ginger, cinnamon, fennel seeds, cumin and coriander for five minutes. Add the sweet potato and cook for four minutes. Add the carrot, celeriac and mushrooms and cook, stirring, for one minute. Stir in the purée, then add enough water to just cover the ingredients. Bring to the boil and simmer for 20 minutes. Add the beans and parsley, season and cook for ten minutes. Cook the noodles according to instructions and serve the stew over the noodles.
Nutrition
We got Myfitnesspal, one of the best weight-loss apps for calorie counting, to do the hard work for us in the nutrition department, crunching the numbers to give us approximate nutritional values for this recipe. This recipe contains around 689 calories per serving, and provides 109g of carbohydrates, 27g of protein, 17g of fat and 9g of fibre.
Sweet potato is a nutritious root vegetable that contains manganese and copper, which are vital for healthy muscle function and energy release.
Low-GI soba noodles are made with buckwheat and they contain twice as much fibre, protein and iron as wheat spaghetti. They are also high in carbohydrate which will provide plenty of energy.
Mushrooms are high in the hydrating mineral potassium, which also helps convert sugar into energy-providing glycogen.
A low-fat source of protein, beans also contain the digestive hormone cholecystokinin, a natural appetite suppressant.
The beta carotene in carrots reduces the free-radical damage caused by intense exercise.
---
More About Healthy Eating
Sign up for workout ideas, training advice, the latest gear and more.
Lucy Miller is an experienced journalist who has worked across a range of health and fitness titles. She was the fitness and nutrition editor at Men's Fitness UK, and has also been fitness editor of both Health & Fitness UK and Women's Fitness UK. Lucy qualified as a NASM-certified personal trainer and nutritionist in 2008.