The End of Running Races With Earphones
UK Athletics has a nasty surprise in store for runners who wear headphones – disqualification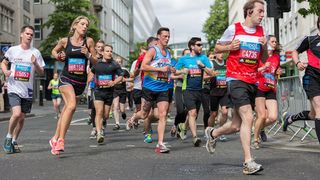 (Image credit: unknown)
Ever had that feeling of flying over the finish line at the end of a gruelling race and concrete legs brought back to life by the sounds of Eye Of The Tiger blasting in your ears? If so, you may soon be brought crashing down to earth with 
a disqualification for sporting illegal earwear.
Since a ban on headphones was introduced this summer by UK Athletics (UKA), for many runners up and down the UK the reality has been the disappointment of unexpected disqualification.
The new competition rules of racing are focused on health and safety, and decree that "the wearing of headphones, or similar devices, is not permitted in races on any single carriageway road that is not wholly closed to traffic." Additionally, UKA recommends a ban on headphones in any race where they could pose 
a hazard, including, for example, where runners need to hear instructions from the race marshals.
While some runners have welcomed the move towards greater safety, others see it as a step too far, and although the new rule came in at the start of April it's been a shock 
to many runners unaware of the change over the summer.
Race officials at the Beverley10km in East Yorkshire disqualified 48 runners for wearing headphones, while organisers of the Brentwood Half Marathon confirmed that they had disqualified several people for earbud offences. Longer races have also introduced the ban, including the Brighton Marathon, leading to concern among racers reliant on their headphones. Many long-distance runners consider their headphones to be indispensable, with music helping to motivate them and distract them from their painful legs, while others keep a check on their average pace and other fitness data during a run.
RECOMMENDED: Best Sports and Running Headphones
Speaking to the Hull Daily Mail, a runner disqualified in the Beverley race, who did not want to be named, said: "I've always worn headphones on previous races as it helps me to focus and pace myself… There was no mention of it on the day, despite there being plenty of stewards that could have pre-warned us prior to the run."
 UKA advises that runners check the rules of a race before participating to avoid 
a nasty surprise once they cross the finishing line. 
 UKA failed to return our calls by press time. Perhaps they had their headphones in…?
Sign up for workout ideas, training advice, reviews of the latest gear and more.