How To Run Faster According To The Very Fast Shelayna Oskan-Clarke
The European 800m Indoor champion shares the one thing that helped her run faster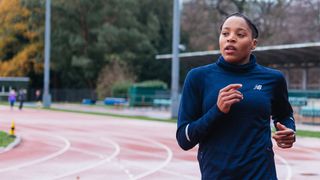 (Image credit: Unknown)
We love an easy jog as much as the next runner, but there's something special about taking off the handbrake and letting your body show you what it can do, whether that's over 100m, 800m, 5K or that downhill bit that leads to your front door. It's an exhilarating pleasure that everyone can enjoy, from the newly enthusiastic couch-to-5K runner to the marathon veteran. Trying to run faster is also a great way to motivate yourself to run more regularly and setting a new personal best is a hugely rewarding achievement.
It's also something that's easier to achieve than you might think. We asked current European 800m indoor champion and ambassador for social running app myCrew (opens in new tab) Shelayna Oskan-Clarke for her advice on how to run faster and she zeroed in on the fundamentals. And let's be honest, very few of us who aren't competitive athletes tick all the boxes below, so taking on board just one piece of Oskan-Clarke's advice may well make a difference.
We especially liked what Oskan-Clarke said when we asked her what had made the biggest difference to her running. "Self-belief," she says. "Confidence in my ability and belief in what I can achieve. I think this has been hugely positive on my running because I am more content with where I am at, knowing that with time and patience it will all work out and I will achieve the performances I want. I don't chase the results on my runs or on the track on a daily basis because I know that I give it 100% when I am training and competing. This heightened belief and perspective has allowed me to chill more, enjoy the process – and become European champion."
Shelayna Oskan-Clarke's Top Tips To Help You Run Faster
Start strong
Always do a warm-up jog of about five minutes before you start your run just to get the muscles warm, loose and ready to go. Performing some running drills before you run helps get the body ready and will also improve your running technique.
Stay on top of niggles
If you feel pain, stop and get it checked! Always get niggles looked at straight away and sort them before they become a bigger problem that could stop you from running for a long period of time. It is much better to take a couple of days off rather than being forced to take a couple of weeks or months off.
Fuel your body
Stay hydrated throughout the day, and replace minerals and salts lost when running with electrolyte tablets.
Make sure you have given your body the energy it needs for you to feel good during your runs and get what you want out of them. Also, make sure you refuel after your run and eat enough protein to repair your muscles to minimise the risk of injuries and recover better for the next run.
See related
Make it social
Running with people can take your mind off those long miles and hard efforts. Having someone to run with who can push and motivate you will also improve your running and make it more enjoyable. The myCrew (opens in new tab) app is amazing for that because you can join in on runs according to your fitness and how far you would like to run.
Do strength and core work
Doing some strength work will improve your performance as well as minimising injury risk. Improving your core strength will help you with your running technique.
Get some R&R
Sleep as much as you can – this is when the body adapts to the training. Also, have rest days and easier days. Your body needs time to recover so you can keep getting better.
Sign up for workout ideas, training advice, reviews of the latest gear and more.
Jonathan Shannon has been the editor of the Coach website since 2016, developing a wide-ranging experience of health and fitness. Jonathan took up running while editing Coach and has run a sub-40min 10K and 1hr 28min half marathon. His next ambition is to complete a marathon. He's an advocate of cycling to work and is Coach's e-bike reviewer, and not just because he lives up a bit of a hill. He also reviews fitness trackers and other workout gear.