Stay Active In December With Run Up To Christmas
This virtual running event will help you keep a clear head amid the festive period – and raise money for Mind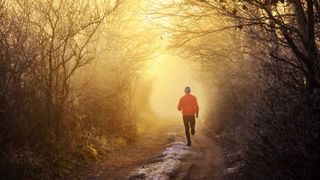 (Image credit: unknown)
Christmas is a wonderful time of year, but it can also be a busy, stressful period where it's tough to find some headspace for yourself as you attend a host of parties, buy presents for all your loved ones, and try to figure out in advance how to forestall the standard family arguments.
Heading out for a run during December is a guaranteed way to carve out a little time for yourself, allowing you to clear your head and enjoy the simple pleasure of putting one foot in front of the other. And if you sign up for virtual running challenge Run Up To Christmas you'll have a compelling reason.
There are five overall distance goals you can aim for as part of the event: you can aim to complete 50km, 100km, 150km, 200km or 250km between 1st and 25th December. You don't have to run every day, although maintaining a streak throughout the month is no bad idea if you're targeting the higher goals – attempting to log the longest challenge distance requires you to log an average of 10km a day.
See related
Extra motivation comes in the shape of bonus prizes along the way, which are awarded for things like spotting the most well-decorated house while out for a run. You can also earn prizes by drawing "Strava art" with your run, which involves plotting a route that draws a festive GPS map – a bauble being the easiest option, assuming you have a nice loop to run nearby.
To log your distance to the Run Up To Christmas website you'll need to provide some evidence of your activity. The easiest way to do this is by linking a Strava account to it, but you can also send pictures of your running watch or other apps used to track your run.
The event raises funds for Mind, with 50% of the money made from Run Up To Christmas going to the mental health charity. A single entry to the event costs £14 and there are discounts available if you enter in a group, with the largest reduction of 10% available for groups of ten.
Sign up | £14
Sign up for workout ideas, training advice, reviews of the latest gear and more.