Sugar Ray Leonard: "The More Challenges you Face, the Better you Become"
Heralded throughout the 1980s as the "boxer of the decade", Sugar Ray Leonard reflects on how hard he had to fight to be the best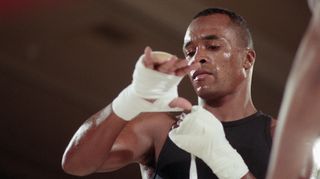 (Image credit: Unknown)
How seriously is America taking British boxing right now?
America is taking notice. I like what I see in Anthony Joshua. He should aim high, but he needs to keep a level head. Being famous and powerful is so seductive… it's a poison. It's good and bad. But as long as he keeps his feet on the ground and keeps raising the bar with every fight, he has a bright future. He recently said he just wants to knock people out and I like that attitude.
What was your motivation to simply knock people out?
My motivation was to win. Initially I wasn't going to turn professional. I wanted to go to college. But my father was severely ill and I had to turn pro to pay his hospital bills. It wasn't until he got better that I thought, this isn't a bad job. But I didn't just want to keep going. I wanted to be the best. If you did two miles, I did five miles. If you did 100 sit-ups, I did 200 sit-ups.
What was the greatest lesson you learned during your career?
That you can't rest on your laurels. There's always so much room for improvement. The more challenges you face, the better you become. Work hard. Be better than any other guy. There are no shortcuts. There's no magic door to success.
You survived some brutal 15-round battles. How did you outlast your opponents?
It comes down to how you answer a question. It could be in the final round, with one eye closed shut, your body exhausted. All of a sudden something says [clicks fingers], "How bad do you want this fight? How bad do you want to win? How great do you want to become?" When it happens you have to answer it with action.
When did you have to face those tough questions?
When I fought Tommy "Hitman" Hearns in '81. When I fought Marvin Hagler in '87. When I fought Roberto Durán, twice, back in 1980. Against Wilfred Benítez when I first won the title back in '79. Those were special times. You're so exhausted. Your arms are weary. But you act, you go for it. You show you want to win more than he does. You have to be in shape to do these things but it's more mental and spiritual than anything.
Which was your most punishing fight?
It was Tommy Hearns in '81. He had me beat on points over 15 rounds. Did I want to give up? No. But I thought about it, about letting it go, of trying to win. When Muhammad Ali fought Joe Frazier he said it was the closest thing to death. It felt that way. It was that deep, that hard, that painful. But I wanted to win that bad. At any cost. That was my Thrilla in Manila moment. To beat a guy of his calibre took everything – and I was ready to give it.
What do you miss most about boxing?
I miss Muhammad Ali. He was a big influence on me. Without Ali there'd be no Sugar Ray Leonard. He was my idol. He was my friend. I also miss the camaraderie. I miss training camps. I don't miss getting hit but there was a transformation over those camps that's amazing. The first week I'd go through a phase where I'd be out of breath, gasping for air, and my sparring partner would kick my butt. But you go through that and when you're in tip-top shape it feels amazing.
RECOMMENDED: Carl Froch's Boxing Training Routine
Would you encourage young people to get into boxing?
Yes. It's the best total-body workout in the world but it's tough. At first you might be able to play boxing. But once you reach a level of serious competition you've got to truly want it.
RECOMMENDED: Punching-Bag Workouts
How would you like to be remembered?
As a great fighter, without question. As someone who made an impact in the ring… but someone who made a bigger impact outside the ring. That would be wonderful.
Sugar Ray Leonard is an ambassador for Skechers shoes. Visit skechers.com for more
Sign up for workout ideas, training advice, reviews of the latest gear and more.
Sam Rider is an experienced freelance journalist, specialising in health, fitness and wellness. For over a decade he's reported on Olympic Games, CrossFit Games and World Cups, and quizzed luminaries of elite sport, nutrition and strength and conditioning. Sam is also a REPS level 3 qualified personal trainer, online coach and founder of Your Daily Fix. Sam is also Coach's designated reviewer of massage guns and fitness mirrors.