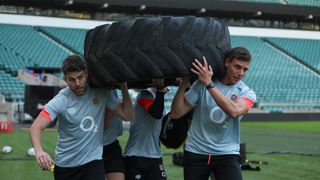 (Image credit: Red Bull)
In preparation for the Autumn Internationals last year, the England rugby union team tackled a unique Red Bull-branded workout that would help them conquer world champions South Africa. The energy drink brand's schemers pitted the players in a tug-of-war against an 8.5-tonne Dakar Rally truck in an epic duel dubbed the "Stress Test". A month later England clinched a dramatic 27-26 victory over the Springboks with the last kick of the match.
In January, they invited Coach along to Twickenham Stadium to take on the Stress Test, followed by a training masterclass run by England's head of strength and conditioning Jon Clarke. Rope burns aside, here are four things we took away from the session that anyone can use to transform their strength, power and mental fortitude.
1. Jump-Start Your Central Nervous System
Before every workout and match, the England players have adopted a novel trick called Reflexive Performance Reset (RPR) that primes the body for action. It involves rubbing – or scrubbing – pressure points around the body, such as behind the neck, either side of the spine, and around the hips and glutes.
To demonstrate, Clarke asked us to keep our body stable as he forcefully tried to rotate our torso. On the first go he span us around no problem. Then, with his closed fist, he firmly patted the muscles and soft tissue up and down our back for a few seconds, and on the second attempt we were noticeably better able to hold steady.
RPR, Clarke says, was devised in the US by elite strength coaches Chris Korfist and Cal Dietz, but the technique draws on principles from traditional Chinese medicine relating to energy pathways, or meridians. The theory goes that these meridians pass through the top layer of skin and fascia and are associated with the major organs and muscle groups, metabolism and emotional wellbeing.
A blockage in one meridian can interrupt the flow of energy around the body, leading to an imbalance that causes tightness, weakness or even illness. The England coaches learned how these meridians, which are dotted with pressure points, can be manipulated via acupuncture, acupressure or simply massage to encourage a better energy flow. When executed correctly, this helps restore balance and improve the body's ability to cope and react to mental, physical and emotional stress.
While Clarke acknowledges this practice isn't an exact science and some of England's players are yet to be convinced, others – especially the previously injury-prone flanker Sam Underhill – swear by it. "It kept him fit for eight, nine, ten weeks, whereas before he couldn't string three weeks together [without getting injured]," says Clarke. "It basically just turns up your nervous system. If you do it properly head to toe, you can feel a difference. You feel lighter, you feel like you've got a bit more spring."
Try it yourself: Fire up your CNS before exercise by massaging the soft tissue behind your neck, in your lower and mid back, and around your hips and glutes. Spend 30 seconds on each pressure point, then move on to your warm-up.
2. Develop Real-World Mobility
Once these wake-up drills are complete, the England players will methodically work through a dynamic warm-up drill involving a series of chest- and waist-high hurdles. They will squat down to slip under each tall hurdle, rotating through the gate with a big lunge and upright posture. Next they'll reverse the movement, then swap in lower hurdles to sweep their leg over each barrier like a 110m sprinter.
"We borrowed this from track and field," says Clarke's fellow England S&C coach Tom Tombleson, a former England Sevens player. "The hurdles train the players to get into good dynamic postures. It strengthens the hips, and targets all the muscles and areas that are crucial for running."
The idea is to challenge the body to work through every plane of motion: forwards, back, left, right, up, down, rotating one way and the other. Most of us are used to just working forwards and back when we walk, run, press and pull, but rugby players can't afford to work that way or they'll get bent out of shape within minutes of kick-off.
Try it yourself: This principle of global mobility can be applied to every body part, not just the hips. Think about gently manoeuvring your shoulders, ankles, wrists and spine in multidirectional patterns before a workout, focusing on the joints and muscles relevant to the exercises you're about to perform.
3. Test Your Mental Strength
Before the England players were pitted against the 1,150 brake horsepower Dakar Rally 4x4, they were first pitted against each other in a strongman-inspired relay race.
Red Bull gave Coach and other attendees a slimmed-down version to tackle on the Twickenham turf.
Our Stress Test involved heaving an 80kg tyre 200m, the length of the pitch and back (the England players tackle a monster 150kg Kamaz tyre); dragging a weighted sled the same distance; then flipping the tyre all the way, finishing with one more sled drag. All the while Clarke and Tombleson bombed rugby balls into our path. If we let them hit the ground, the whole team took a time penalty, and had to sprint to the start line and back.
Clarke, a former Great Britain rugby league international who also worked with the British and Irish Lions on the 2021 tour of South Africa, emphasised the challenge is as much about strategy and teamwork as brute strength.
In their Stress Test, the England players had to contend with other challenges, including the tyre being padlocked to a post dug deep into the sand. The smartest team worked out there was a code for the lock, found it, and raced into the lead.
"Controlling what happens between your ears can make the difference between winning and losing," says Clarke. "We wanted to create a scenario where the players had to work as a team to solve problems, in order to win within a pressure environment. It helps to bring everyone together and creates an opportunity for individuals to understand how they will react on the big stage."
Try it yourself: You don't need to flip a tyre to test your mettle, but you should try to vary your workouts with the odd class or activity outside of your comfort zone once in a while. If you do have access to a tyre and sled at your gym, give this relay a go.
1. Tyre carry 50m
2. Sled drag 50m
3. Tyre flip 50m
4. Sled push 50m
Rest for one minute between each set and repeat as many times as you can in 30 minutes. Always warm up well beforehand and make sure you're able to perform each exercise safely, with good technique.
4. Keep Training Fresh
At a subsequent camp, the England squad headed to the south coast for another immersive training session. On a cold January morning the players could be found on Brighton's pebble beach, forming a human chain to hurl a heavy sandbag between themselves in a type of relay, before wading into the icy Channel to round a buoy.
All this illustrates the out-of-the-box thinking professional rugby squads regularly use to keep training fresh and players engaged. The team have even borrowed sprinting drills from the 2018 Winter Olympic-winning German bobsleigh team. Regardless of the exercise, Clarke stresses, it's always vital you keep your eye on the specific goal you're working towards – be that a parkrun or a Six Nations Grand Slam.
"We have to get the players in the best condition – physically, psychologically, emotionally – for that 80 minutes on the weekend, so we try to design everything in the week around that," says Clarke.
The main takeaway is the value of pacing yourself. The players will balance the brutal work with equal parts rest, recovery, mindfulness, meditation, and even blowing off steam with friends and family. Strike the right balance in training, and the match will take care of itself.
Try it yourself: If your training is getting stale, shake it up with an activity, exercise class or discipline you've never tried before. You'll learn more about yourself in that one session than from a month of uninspiring workouts. Just remember to find balance and taper your intense workouts so you arrive fresh and energised for that race or match you've been working towards.
Watch the England Rugby squad take on the Stress Test on Red Bull TV
Sign up for workout ideas, training advice, reviews of the latest gear and more.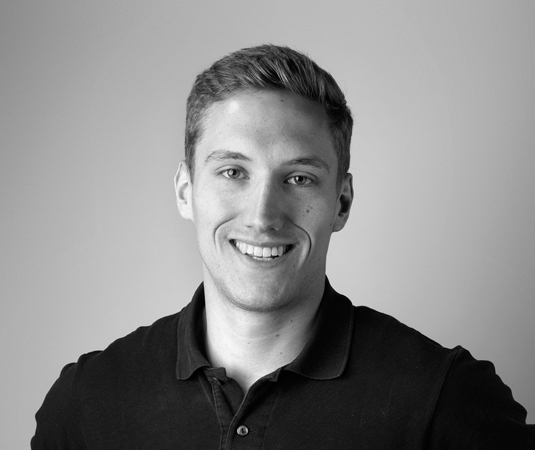 Sam Rider is an experienced freelance journalist, specialising in health, fitness and wellness. For over a decade he's reported on Olympic Games, CrossFit Games and World Cups, and quizzed luminaries of elite sport, nutrition and strength and conditioning. Sam is also a REPS level 3 qualified personal trainer, online coach and founder of Your Daily Fix. Sam is also Coach's designated reviewer of massage guns and fitness mirrors.