A Group Cycling Tour Across Tanzania with Intrepid Travel
Cycling. We tried Intrepid Travel's 13-day two-wheeled adventure and we won't set foot on a tour bus again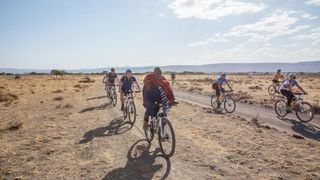 (Image credit: Unknown)
Tanzania is a country that boasts almost endless attractions. Stunning scenery, hordes of beasties both timorous and bold, and, topping it all off, the highest mountain in Africa. One thing you would perhaps not instantly associate with the East African country is cycling, not least because it takes a pretty handy rider to escape a cheetah chasing at 100km an hour.
However, those with a thirst for two-wheeled adventure can now take in Tanzania on a tour with Intrepid Travel, which has launched 18 cycling trips all over the world, starting from next March. Of all the destinations on offer, Tanzania stands out as perhaps the most enticing, with the promise of exotic animals, cultural activities and exciting mountain biking all rolled into 13 sun-soaked days. To get a taste of the demands and delights of an Intrepid tour, I joined them in Arusha, northern Tanzania, to do some cycling in the shadow of Mounts Kilimanjaro and Meru.
The Ride of Your Life
Intrepid suggests that anyone with a reasonable level of fitness will cope with the physical demands of the trip, and while that's true, it would definitely be worth getting in a little practice if it's been a while since you rode. However, the pace will never be so high that the group splits up, and you might surprise yourself – the toughest section on our tour was a steady 3km climb, and nearly all riders made it without disembarking for a push. You won't be spending your whole day cycling either, with plenty of breaks and stops to enjoy local landmarks and photo opportunities, so the distance will never be overwhelming.
At the same time, those keen to spread their cycling wings won't be disappointed. There are challenging sections on rocky dirt tracks that will test your concentration, and also some long stretches on better roads, with both tough ascents to conquer and rapid descents to fly down.
I found the cycling undoubtedly as much an attraction to the trip as any of the pit-stops we made at tourist highlights. Over the course of the week I also realised how much I preferred cycling to touring on a bus. Though tiring physically, you end each ride invigorated, rather than stepping off a bus half-asleep to see the next attraction. Covering ground on two wheels also gives some context to the places you visit, something that felt especially true than when we bounced along a 5km dirt track to visit a Masai village.
Intrepid Travel's new 13-day Cycle Tanzania trip costs from £1,940 per person, including accommodation, ground transport, entry fees and the services of a local guide (exc international flights).
Coach flew to Tanzania from London Gatwick with KLM. Prices start from £355 per person one way.
Highlights of The Bike Tour
Riders are never too far away from their next stop, here are some of the top spots from our tour.
Arusha National Park
We were the first group allowed in to cycle Arusha National Park, which is the home of Mount Meru, Tanzania's second-highest peak behind Kilimanjaro. Meru itself stands 4,565m high, so although we didn't have to cycle to its summit, there were still some stern climbs to tackle.
Tengeru Cultural Programme
One of our first stops, before we even put pedal to the metal, was the Tengeru coffee farm just outside Arusha. Lovers of the sacred bean might even find this the highlight of the trip, as you get to make coffee from dried green beans. Grinding, roasting and then grinding them again to make the perfect cup.
Ngorongoro Crater
One of the world's top wildlife-watching spots, and your best bet for catching a glimpse of Africa's big five (lion, elephant, buffalo, leopard and rhinoceros) in Tanzania. The vast crater spans 260km and acts as a natural enclosure for animals, many of which can't escape due to its steep sides.
Lake Manyara National Park
The trip visits the Lake Manyara National Park on both two wheels and four – don't fear, the former steers clear of the more toothy animals. We encountered flamingoes, storks, wildebeest and catfish-shilling fishermen on the bikes, before visiting the national park proper, where we saw lions, elephants and hippos from the relative safety of a jeep.
Masai Village
On the Intrepid tour, you get to a spend a full evening in a Masai village, which provides plenty of time to feast on goat, learn about their culture, and even provide a hand herding the cows in for the night. Also if you stick around long enough for night to fall, you are rewarded with an incredible view of the stars.
Packing Essentials
Padded gloves
As the only cycling I regularly undertake is commuting on a road bike, I never bothered to invest in some padded cycling gloves. As a result, the first bouncy mountain bike ride wreaked havoc on my pampered palms, so it was very lucky indeed someone had a spare pair of lizard-skin gloves to lend me.
Padded shorts
See above, but with an area of the body far more precious than your hands. I took one pair of DHB shorts; a couple more pairs would definitely have been welcome in the heat. A gel seat will also offer some extra comfort on the bumpy rides.
Wrap-around shades
You might initially feel a bit of a clown, and the tan lines that result from wearing the sporty shades won't impress anyone, but the Adidas Evil Eye Pro pair I wore were vital to keeping the sun, and more importantly the dust, at bay.
Sign up for workout ideas, training advice, reviews of the latest gear and more.