How To Make A Fire Pit And Cook Fire-Pit Curried Lamb
Head outside and dig for your dinner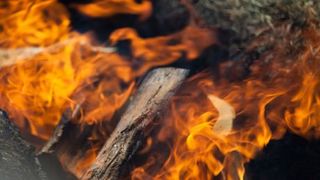 (Image credit: Unknown)
There's something intrinsically pleasing about spending an afternoon in the fresh air of the great outdoors. Better still is to spend that time digging a big hole, making a fire and cooking a hunk of meat. Gather your friends, it's fire-pit time.
How To Make Your Fire Pit
Fire Pit Equipment
Charcoal
Kindling
Piece of corrugated metal
A spade
Flat stones to line the pit
How to Make Your Fire Pit
Dig a hole big enough for your lamb joint and cooking stones.
Retain a layer of soil and turf to insulate the fire pit.
Loosen the earth in the bottom of the pit for the stones to bed into.
Line base and sides of pit with flat stones, adding a few extra slabs to the base to form a raised cooking surface.
Add charcoal evenly to the bed of the fire pit and light using the kindling.
Keep the fire burning for two hours to heat the stones thoroughly. You can start your lamb prep in this time.
Scrape out the embers or push them to one end, then wrap the lamb in foil and put it on the raised platform.
Place the corrugated metal over the top and cover with soil/turf. Leave to cook.
Fire-Pit Curried Lamb Recipe
Ingredients
1 heaped tbsp ground mixed spices
3 heads of fresh garlic
1 tbsp of Dijon mustard
4-5 tbsp yoghurt
2 tbsp curry powder
1/2 jar star anise
1/2 jar cardamom seeds
1/2 medium red onions
1/2 bottle of red wine vinegar
Glug of vegetable oil
Salt
Method
Finely chop the onions, garlic and mix with the yoghurt. Add the blended spices, seeds and salt, then mix with mustard, vinegar and oil to create the marinade
Score the lamb very lightly in a criss-cross pattern through the fat and skin.
Rub the marinade all over the lamb. Cover and leave in a cool spot for 2-3 hours.
Put the foil-wrapped lamb on your cooking platform.
Cover and cook for 1-1.5 hours. For a medium cook, allow 15 mins per lb [450g], 20 mins per lb for well done. Halfway through dig up your lamb and turn it before reburying.
Serve! The lamb should be faintly pink in the thicker areas of the meat.
Valentine Warner has devised a series of fire-pit recipes on behalf of Belgian beer Leffe
Sign up for workout ideas, training advice, reviews of the latest gear and more.