The Nine Best Things To Do In The Maldives, Ranked
Coach went wild for water sports at the Coco Palm Dhuni Kolhu resort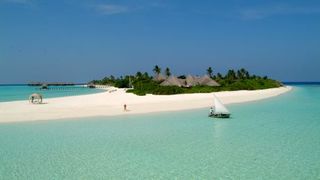 (Image credit: unknown)
If you've booked a trip to the Maldives the chances are your plan A is to kick back and relax on the beach. And that is a good plan, no arguments on that front. However, there are a whole lot of other things you can do in an island paradise, and filling your days with watersports and animal-based excursions will make a trip to the Maldives even more rewarding.
I spent a week at Coco Palm's stunning Dhuni Kolhu resort, where you can try a wealth of different activities. Doing pretty much any activity in the Maldives is a great experience, because you're on a tropical island for goodness' sake, but below you'll find the sports, trips and experiences you absolutely should not miss out on doing.
One thing you don't find is diving. That's because diving is an activity that tends to dominate a trip with courses and full-day excursions. I'm certain diving in the Maldives is a truly superb experience, but all the activities below are picked to fit into a regular holiday schedule, so you can spend a couple of hours trying them before returning to the beach.
9. Find An Even More Deserted Island
One of the great delights of being in the Maldives is the sense that you are truly getting away from it all, and the half-hour seaplane trip from Male to Coco Palm Dhuni Kolhu (pictured) only enhanced this on my trip. Once on these islands there are only a couple of hundred people there with you, but if you want an even more private experience, you can jump on a speedboard over to the completely deserted Embudhoo Island for a drink at sunset or an overnight stay in the only hut on the island.
8. Catch Fish, If You Can
For the record, I could not. Even as our guide reeled in fish after fish, the bait on the end of my hand-line was studiously ignored. On the odd occasion I thought for a second I had caught a whale, but my hook had actually snagged on some coral. However, even if you don't manage to catch any fish, a trip out to try is an excellent way to spend an evening, because being on a boat gives an even better view of the sunset than you get from the island. And if you do get lucky and reel in a monster, the chefs at Coco Palm will cook it up for you to enjoy the next day.
7. Relax In A Kayak
I'm going to call this a must for couples on a romantic break. Jump in a two-person kayak and slowly make your way around the island, kicking back at frequent intervals to catch some rays and stick your head in the water to see what exotic animals are swimming around beneath you.
6. Eat Fish, Eat All Of The Fish
The yellowfin tuna is the national animal of the Maldives, which hopefully means they have a lot of them, because I ate so much I may have depleted their stocks. It's not just tuna either, with all manner of reef fish and other delicious fruits of the sea to enjoy, cooked in every manner you can imagine – chowing down on barbecued lobster and calamari on the beach under a star-filled sky was a particular highlight. Even if fish isn't your thing, make sure you try a coconut tuna curry, which is a local staple and an absolute delight.
5. Try Windsurfing
I was apprehensive ahead of my first attempt at windsurfing, which looked quite complicated with its surfboard and sail set-up, but it's actually one of the simpler watersports to get to grips with in a short time. It's also tremendous fun and, once you have got the hang of it a little, really quite a relaxing way to pootle across the water. That's in low winds, of course. When the wind does get up, it's an altogether more adrenaline-filled pursuit, and you can skip across the waves at speed if you have the skill required.
4. See Dolphins
Dolphins are normally the highlight of any aquatic animal excursion, but in the Maldives there are also turtles, which I like more (see below). I'll also admit my opinion on this front might be coloured slightly by the fact that my dolphin trip was cancelled owing to poor weather. But, still, dolphins are immense. Get up bright and early and you'll be treated to a spectacular sea sunrise as you go hunting for the aquatic mammals, with both bottlenose and spinner varieties found in the waters of the Baa Atoll.
3. Fly Over The Waves On A Wakeboard
Well, you can if you're a more accomplished board-rider than me, which isn't difficult. Wakeboarding, which is like waterskiing but on a board you're strapped into, is quite tricky for newbies who don't surf or snowboard, but over the course of my first half-hour learning the sport I did manage to stand up a couple of times for a few seconds – and and those seconds were exhilarating. The technique isn't too tricky to learn, so give it a couple of lessons and even the most incompetent of boarders – I promise you – will get the hang of it.
See related
2. Go Turtle Crazy
Did you know turtles can get fat? Neck rolls and everything. That's just one of the turtle facts I learned from the vet at Coco Palm's turtle rescue centre, which provides a temporary home for injured and ill turtles before they are hopefully released back into the ocean. Coco Palm Dhuni Kolhu is also a regular nesting site for turtles, with some almost unbearably cute wee ones hatching and making their way to the ocean during our stay. Several types of turtle frequent the reefs around the island so you can see them while snorkelling and diving, which is an awe-inspiring experience.
1. Snorkel, Snorkel, Snorkel
Dip your head beneath the waves and you'll find a whole world waiting for you. The coral reefs around the Maldives are teeming with life, and it definitely seems like most of it is brightly coloured – even large clams have beautiful patterns on display. At Coco Palm Dhuni Kolhu you can see an array of spectacular fish and coral on the house reef, and even the occasional turtle, ray and shark, but you can also go out with a marine biologist to explore more abundant reefs, and this was the highlight of the entire trip. Not only did we see a turtle and a huge variety of fantastic fish, we learned all about those animals and indeed the impressive coral itself from an expert while swimming around them. Unbeatable.
Seven nights from £1,949 per person in a Beach Villa on a half board basis or £2,399 per person on all-inclusive basis at Coco Dhuni Kolhu with Turquoise Holidays (01494 678 400, turquoiseholidays.co.uk), including return flights with Emirates via Dubai from London Heathrow to Maldives and return seaplane transfers.
Sign up for workout ideas, training advice, reviews of the latest gear and more.