The Eight Best Things To Do In Taiwan, Ranked
National Parks, night markets and early-morning exercise were some of the highlights of Coach's trip to Taiwan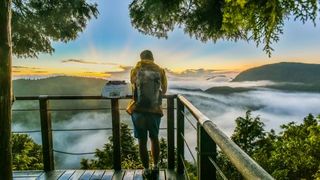 (Image credit: unknown)
For too many visitors, a trip to Taiwan starts and ends in Taipei. While the capital is an extraordinary place that's well worth spending some time in, there's a lot more to enjoy in Taiwan.
Venture outside the city limits and you'll find some remarkable natural parks, with attractions ranging from canyons to the mountains covered in misty forests in the centre of the country. There are 286 peaks over 3,000 metres on the island and five mountain ranges to explore.
After spending a whirlwind week exploring Taiwan, these are the eight activities I reckon should top any list when planning a visit.
8. Have a dram of Kavalan Whisky
In 2015 the Best Single Malt gong at the World Whiskies Awards didn't go to a Scottish, Irish, American or Japanese brand, it went to Kavalan's Vinho Barrique. That's far from the only award the Taiwanese distillery has picked up in recent years – not bad at all considering it only released its first bottling in 2010.
Kavalan is based in Yilan County and you can visit the distillery for a tasting, but even if you can't fit in the hour's drive from Taipei, it's worth trying a few of its many whisky variants wherever you are in Taiwan, not to mention grabbing a few bottles in duty free.
7. Marvel at Qingshui Cliff
If you're driving around Taiwan then it's worth stopping off on the trip south from Taipei or Yilan County to Taroko Gorge (highly recommended, as I'll come to) in Hualien to take in the view of the Qingshui Cliff from the observation decks along the road. This towering coastal cliff drops dramatically into the Pacific Ocean and is one of the most scenic spots you'll ever find just off a motorway.
6. See the city from Taipei 101
Every visit to Taiwan should include a few days in the bustling capital and no visit to Taipei is complete without a trip to the top of Taipei 101, once the tallest building in the world (now the tenth). Take the speedy elevator to the observation platform for an unparalleled view of Taipei that's only lacking 101 itself, and while you're there it's worth queuing to eat at the sensational dumpling restaurant Din Tai Fung in the shopping centre at the bottom of the building.
5. Drink some bubble tea
While you can get hold of bubble tea all over the world now, it's still worth trying it in Taiwan where the drink was invented. There's a flavour to suit everyone, as long as you're keen on the chewy tapioca pearls that are the drink's calling card. If you're looking for authentic bubble tea from some of the first to serve it, there are two main contenders who both claim to be the birthplace of the drink – Chun Shui Tang Teahouse in Taichung and Hanlin Tea Room in Tainan. But perhaps the best place to try it is the nearest night market, more on which later.
4. Hike along Taroko Gorge
Taroko National Park is easily-accessed from Hualien city and running through it you'll find the absolutely stunning 19km-long Taroko Gorge. A trail has been cut into one side of the canyon, which allows you to walk a 4.4km section (and then walk 4.4km back – never forget the return journey) and gaze at the amazing views of the Shakadang River, which is peppered with bluish-green pools.
3. Get up early and go running
It's best to exercise early in Taiwan, because later in the day you'll have to cope with heat, humidity and, if in a city, air pollution. Get up for the sunrise, however, and it's a fantastic place to run, whether that's in the massive sports park that even small towns seem to have – I stumbled across one with a running track, tennis and basketball courts, a rugby field and a baseball stadium opposite my hotel – or, if in Taipei, the long cycle tracks that line both sides of the rivers that flow through the city.
While I was in Taipei I took part in the inaugural Eva Air Marathon (actually a half marathon), the route of which mostly follows the cycle paths along side the Keelung River, making for a fantastically scenic city race.
See related
2. Stuff your face in a night market
It's never wise to eat too much at dinner in Taiwan, because some of the tastiest food you'll come across on your trip will be in the many night markets that can be found in every town and city. The smell of stinky tofu (that's its proper name, we're not being rude) – worth trying at least once, but certainly not to everyone's taste – plus the massive crowds of people will lead you to the nearest night market, where you'll find a huge variety of foods, drinks, fairground games and much, much more.
Along with stinky tofu, other treats worth trying include a steamed bun typically filled with pork called gua bao, a small sausage in a large "sausage" made from sticky rice so it looks a bit like a hot dog, and deep-fried popcorn chicken. It's not just about food either, with a variety of drinks available to wash down your quick bites. Be wary of the amount of sugar in some of these, though – there will be several levels to choose from and the standard option is a lot of sugar, which isn't always conducive to getting to sleep once you leave the night market.
1. Get lost in the mist in Taipingshan's forests
Taipingshan National Forest Recreation Area is a few hours' drive south of Taipei and the most scenic spot I visited in Taiwan. Travelling from Taipei to the area involves climbing quickly to an elevation of around 2,000m, which would offer splendid views if it wasn't for the mists that roll into the mountain forests most days. However, these create a remarkable, almost eerie atmosphere along the several trails you can walk around Taipingshan, including one along the old logging railway line complete with moss-covered tracks and bridges.
You can also jump aboard the Bong Bong train while you're there, which runs along a short section of the old logging route, and other attractions include the Jioujhihze hot spring, an ideal spot for relaxing after a day exploring the forests. That said, none of the hiking is too arduous, with most of the designated trails just a few kilometres long, so plan to take in two or three during your trip. My favourite was the Chinese Hemlock Forest Nature Trail, which climbs through the forest to a viewing platform at almost 2,200m looking out over a sea of clouds.
EVA Air flies to Taipei from London Heathrow via Bangkok daily. Economy return fares from £533, premium economy return fares from £1,051, Royal Laurel return fares from £2,331. evaair.com (opens in new tab)
Visit the Taiwan Tourism Bureau (opens in new tab) online for help preparing an itinerary
Sign up for workout ideas, training advice, reviews of the latest gear and more.