Free Bikes for London Commuters
The catch is you need to be willing to travel to work on an advert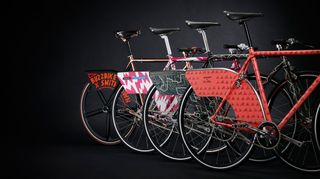 (Image credit: Unknown)
The latest innovation in mobile advertising will land some Londoners a free bike later this year. Buzzbike is offering a top-of-the-range Cooper single-speed bike, lights, a lock, and insurance for nothing, with the only catch being that you actually have to ride the thing.
Advertisers fund the scheme by paying for customised designs on the bikes, and to ensure they get their money's worth of exposure, users will have to cycle to work a minimum of 12 days a month and park it on the street.
Those commutes will be tracked via a partner app, and although Buzzbike is yet to reveal how many infractions will result in the bike being taken away, the threat of losing their wheels should be an excellent motivation to keep users cycling to work in all conditions.
RECOMMENDED: Take a Spin Class on the Bus to Work
When the first Buzzbikes launch in September its exclusive advertising partner will be payment company Braintree, but the final designs of the bikes are as yet unknown. So there is an element of risk involved in that you're not sure exactly what your two-wheeled steed will look like when you apply.
However, it's going to take something drastically bad to make you turn down a free bike, and at least you know it's not going to emit a constant stream of the Go Compare song.
For more info on how to apply for the Buzzbike scheme, head to buzzbike.london
RECOMMENDED: Which Folding Bike Is the Best for Commuters?
Get a Sneak Peek
To celebrate the launch and to demonstrate the customisation possibilities available to advertising companies, Buzzbike commissioned four artists to design their own bikes, including a natty pink lightning number by Eley Kishimoto that really catches the eye. You can see the artist-designed bikes in a tank on the bank of the Thames outside the London Design Museum.
RECOMMENDED: Solve Your Commute Conundrum with an Electric Bike
Sign up for workout ideas, training advice, reviews of the latest gear and more.