SmartHalo vs Beeline: New Cycling Navigation Devices Tested
Make your bike smarter with these handy handlebar accessories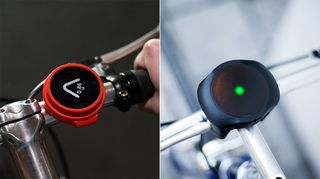 (Image credit: Unknown)
Cyclists can now call upon a host of fantastic cycling route planners. The simplest for most is the combination of the Google Maps app and headphones, and the most impressive is a top-of-the-range GPS device with massive colour screen and maps of the entire world.
In between these two extremes are dedicated cycling navigation devices, many of which got their start on crowdfunding websites. Two such devices are Beeline and SmartHalo, which mount on your handlebars and connect with your phone's GPS to help you get where you're going.
Coach has tried both Beeline and SmartHalo, and while both are excellent options for the frequently-lost cyclist, especially in big cities, they both have specific strengths and weaknesses. If you're considering buying one for yourself – or as a gift for a cyclist – we've compared the design, navigation, ease of use, additional features, battery life and price to help you find the one that suits.
Design
Beeline has the edge in terms of basic design, thanks to its silicone case that wraps around the handlebars to attach the device to your bike.
SmartHalo attaches to a fixed, screwed-on frame, and to dock it you need a key which you hold by its side as you slip it on and off. Although this means you can leave it on all the time (and it even has some alarm features), it's more of a faff, so we're awarding this category to Beeline.
Score: Beeline 1 SmartHalo 0
Navigation
Both devices have a partner app and use your phone's GPS to direct you, but they do it in different ways. Beeline's key difference is that it offers a simple directional pointer and distance to your destination, requiring you to find your own route based on that info. It also offers more detailed route planning with a route assistant that will plot several waypoints along your journey.
RECOMMENDED: Reflective Cycling Gear To Keep You Riding Through The Winter
The route assistant still isn't full turn-by-turn navigation, however, which SmartHalo does offer. This is done by flashing lights on the device, along with an alarm every time a turning is coming up. SmartHalo will also offer a simple directional pointer if you change the settings in the app.
We found that all three methods – pointer, route assistant, and turn-by-turn – will get you there in roughly the same time. Turn-by-turn intuitively seems the best but it's very easy to miss turns, especially in cities, and having to keep a close eye on directions all the time isn't always the wisest move on busy streets which require your full attention. The directional pointer also encourages you to learn the roads around you, rather than relying on an electronic aid.
That said, SmartHalo was impressively fast at recalculating routes when we did miss an instruction, whereas with the simple pointer you can end up hitting a river or railway line with no idea which is the fastest way to cross it. So we're giving this one to SmartHalo.
Score: Beeline 1 SmartHalo 1
Ease Of Use
Ease of use is just a nicer way of asking, do these things actually work? As both are new devices, you'd expect a few issues. For instance, Beeline had a frustrating knack of pointing in the wrong direction if we neglected to calibrate it before each ride. There were also a couple of occasions when it failed to connect properly and we had to abandon it.
Both apps' mapping also left something to be desired. It was hard to find a lot of destinations via the search bar – we usually had to move the map around and drop a pin – and SmartHalo often made bizarre decisions when it came to turn-by-turn routes.
Most of the time this didn't matter much, and it's easy to go what seems a better way and let the device adjust, but it opted to take us on routes where we'd have to walk sections with alarming regularity. Clearly one advantage of a bike is you can jump off and wheel it short distances if that's faster, but these were not faster routes – just wrong ones.
Beeline didn't have these issues because it doesn't offer turn-by-turn, and we found the route assistant usually chose waypoints that took us along the best route. However, the calibration issue was so annoying that we can't in good conscience award Beeline the Ease Of Use crown, so it's nul points to both here.
Score: Beeline 1 SmartHalo 1
RECOMMENDED: The Best Cycling Apps
Extra Features
A clear win for SmartHalo, because it not only has a built-in front light but also acts as an alarm for your bike if you leave it attached, triggered by persistent jostling. You can set how sensitive the alarm is in the app and it will turn itself off automatically when your phone is within range.
SmartHalo also notifies you when you get a call or text while riding via a flashing light, which is mostly useless in real life (but at least they tried!). Beeline claws some ground back by enabling you to upload your rides to Strava, but SmartHalo is expected to add that feature in the coming months.
Score: Beeline 1 SmartHalo 2
Battery Life
Both are impressive on this point. You can expect 30 hours of riding from the Beeline, which also holds battery in standby mode – it will last for months if left alone. The SmartHalo is listed as offering three weeks of regular use.
In practice we found that both lasted a month comfortably because, let's face it, you don't actually need directions that often unless you really struggle to remember your commute. Beeline might have a slight edge on paper, but in practice both last well enough to call battery life a tie.
Score: Beeline 2 SmartHalo 3
Price
Beeline is the cheaper of the two at £99, with SmartHalo's cost listed at £156.09 (£129 plus VAT) on its website at the moment. That's a win for Beeline.
Score: Beeline 3 SmartHalo 3
Verdict
So after all that, it's a score draw – but the two navigators excel in different areas. Beeline's design stands out and using a directional pointer or route assistant gets you places while you actually learn the routes around you. However, for some people the assurance of turn-by-turn directions is essential, and SmartHalo does those well and recalculates routes very quickly if you go wrong. Whichever you choose, it's a big upgrade on using Google Maps with headphones.
Beeline £99, buy on beeline.co, check price on amazon.co.uk
Smarthalo £156.07, buy on smarthalo.bike, check price on amazon.co.uk
Sign up for workout ideas, training advice, reviews of the latest gear and more.