The Best Cycling Route Planners To Get You From A To B Fast
Turn your smartphone into your very own GPS with these handy apps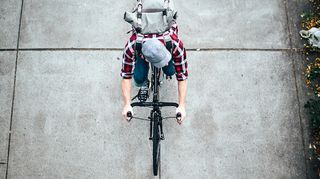 (Image credit: Unknown)
Planning a cycling route can be something of an art. To put together a good one, it helps to have the navigational nous of a black cab driver, ideally accompanied by an encyclopaedic knowledge of busy main roads, pothole-strewn side streets, and canal towpaths crowded with pedestrians. The problem is, acquiring this intel takes time – and only the uber-keen enjoy poring over Ordnance Survey maps for hours.
Enter cycling route planner apps. These help take the guesswork out of plotting cycling routes – both pre-planned courses and on the fly directions – to transform your smartphone into a bike-worthy GPS. To make the most of their features, invest in a bike mount so that you are able to follow the directions confidently when on the move, rather than having to retrieve your phone from a pocket or bag every time you come to a junction.
Not sure where to start with cycling route planners? Here's our pic of the best apps, both free and paid for.
Google Maps
Renowned for making the car satnav a thing of the past, Google Maps does a decent job when plotting cycling routes too. Ideal for A to B journeys when you want a direct route, the app will give you turn-by-turn directions and audio cues too. It's also possible to turn on a cycling layer, which highlights all dedicated cycle lanes and quietways. Where it falls down is that it will sometimes send you down shared-use paths that turn out to be more stressful than riding on roads. Also, if you miss a turning, it has a habit of automatically sending you on a lengthy diversion when the easiest option is often stopping and turning around.
Download from App Store and Google Play | Free
CycleStreets
While not as smooth as Google Maps, CycleStreets is more adept at finding the best routes for cyclists in the UK. It gives three options for mapping routes: fast, balanced and quiet. Opt for quiet and you'll discover a new world of side streets and cycle paths, while the fast option is the best pick when you're late for work. You get every detail on your route, including traffic lights and pedestrian crossings, and CycleStreets is even smart enough to avoid tough climbs wherever possible.
Download from App Store and Google Play | Free
Bike Citizens
Many of the best bike navigation apps can be rendered entirely useless if you don't have an internet connection, or want to avoid pricy roaming charges when abroad. Bike Citizens currently covers 450-plus cities and once you download the maps of the area to your phone, you don't need an active connection to use them, which will also save on battery usage. All the routes it picks are tailor-made for cyclists and, as with CycleStreets, you can choose between faster or quieter roads.
Download from App Store and Google Play | Free, city packs £4.99 each (or £17.99 for all cities)
See related
Strava
The activity tracking app is synonymous with Lycra-clad road bike riders looking to get the fastest time on one of the many in-app "segments", but there's much more to it than that. Opt in for the premium version, and you'll unlock a world of route planning where suggestions are made based on other riders' real-world data – giving you reassurance that you're not going to end up on a busy interchange. Routeing preferences allow you to toggle between the most direct and most popular path from A to B, while it's also possible to determine how many hills you'll encounter and whether you need to stick to paved paths only. The neatest feature, though, is the ability to have a new circular route created just for you – simply enter a start point, total distance and direction and Strava will do the rest, letting you explore new roads and trails without any local knowledge.
Download from App Store and Google Play | Free, subscription £49.99 per year
Komoot
Komoot is one of the most popular (and among the fastest-growing) navigation apps in the world. It caters for everything from hiking to e-biking, and certainly holds its own when it comes to providing directions on two wheels. It's possible to plot a route using predetermined start and end points, and Komoot will use its algorithm and your sport and fitness preferences (whether you're a pro gravel grinder or untrained bike tourer) to plot you the perfect route. Alternatively, you can search for routes and tours in its nifty Discover section. Whether you choose to plot your own or opt for a pre-planned route, you can preview what to expect – whether that's lung-busting hills or sections of bridlepath.
Download from App Store and Google Play | Free, downloadable regions £3.99 (or £29.99 for unlimited regions)
Sign up for workout ideas, training advice, reviews of the latest gear and more.