The Best GPS Bike Computers
Track your stats and find your way with these handlebar-mounted cycling computers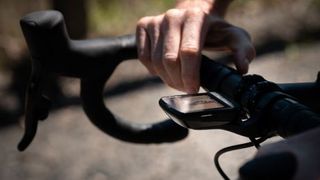 (Image credit: Unknown)
Riding a bike is one of life's simple pleasures – as long as you know where you're going. If you don't, it can quickly turn into a nightmare stop-start experience full of frustration and wasted effort. And while you can simply turn to your trusty smartphone and house it in a phone holder to help with navigation, a cycling GPS is a far better option.
A cycling GPS – or bike computer, as they are otherwise known – can guide you on your journey, providing turn-by-turn directions and ensuring that you won't go astray in unknown territory. Unlike a more straightforward car-based satnav, though, a bike computer has a number of tricks up its sleeves.
Even the most basic models can track your distance and speed, allowing you to log your fitness progress by syncing with third party apps like Strava. And the more you spend, the more bells and whistles you get. Top-of-the-range models have features such as training plans and climb profiles, as well as integration with heart rate sensors and power meters, providing live feedback to your riding.
Whether you want to simply go from A to B or collect as much data as you can, these are the best cycling GPS computers you can currently buy.
See related
RRP £99
If you're looking for a device that will help you get around without the need to log your heart rate, the Velo from Beeline is a good option. The small, puck-shaped product has two modes: turn-by-turn and compass mode. Just set up the route using the app and you're ready to go.
The turn-by-turn option offers simple directions as you go but the compass mode is a more adventurous take on navigation, leaving you free to find your own way to a predetermined point rather than following a set route. As well as using the app to find you a route, you can also upload your own GPX files to Beeline Velo.
Other features include a Strava integration to track your rides, a shockproof and waterproof silicone case that can be attached to most bike's handlebars or stem, and a 30-hour battery that's rechargeable via a micro USB cable.
Buy from Beeline | £99 (currently reduced to £79)
---
RRP £149.99
The Edge range from GPS juggernaut Garmin is the best-known line-up of cycling computers on the market, and for good reason. From the entry-level Edge 130 to the £500, top-of-the-range Edge 1030, this collection of well-designed, functional devices has options for all types of cyclists.
The budget Edge 130 is an ideal companion if you're just starting your cycling computer journey. Although the navigation is limited to a breadcrumb trail (a solid line on a blank screen, rather than an illustrated map), the turn-by-turn prompts and downloadable routes make it perfectly capable of exploring new roads.
As well as GPS and a built-in altimeter, performance data such as average speeds, elevation climbed and ride length are available as standard. The Bluetooth and ANT+ compatibility also means that you can pair it to other sensors for even more analysis.
Buy from Garmin | £149.99
---
RRP £264.99
If Garmin is leading the way with well-established cycling computers, then Wahoo is the disruptor looking to offer a bolder, more exciting alternative. Its ELEMNT Bolt is a case in point. Launched back in 2016, the smart tech made an instant impact on the cycling community. Now on its second iteration, it has become a firm favourite among road cyclists.
The large 2.2in (56mm) screen makes it easy to view the information available, with clearly displayed maps, stats and anything else you could possibly want when riding. There are customisable LED lights above the screen that can be programmed to give you a visual cue of things like heart rate or power zones, or the direction of your next turn at a quick glance. All this can be controlled by prominent buttons on the front and sides – handy if you're riding in winter with cycling gloves.
The ELEMNT Bolt can guide you on pre-planned routes as well as plot routes on the fly by inputting an end point, and when you hit the end of your ride the built-in WiFi will upload the data to all third-party training platforms.
Buy from Wahoo | £264.99
---
RRP £349.99
The Edge 830 is one model below the brand's top-of-the-line Edge 1030, and although the screen is not quite as big, and the battery life not quite as long (up to 20 hours versus up to 24), the Edge 830 pretty much does everything its big brother can for £200 less. The bright 2.6in (66mm) display is crisp and clear in both day and night-time riding, while the on-screen navigational alerts and sound effects have helped steer us in the right direction on numerous rides – including a four-day coast-to-coast bikepacking trip.
It's not just a great GPS, though. As well as tracking every data field you could wish for, you can create and sync workouts through third-party integration with the TrainingPeaks app, recharge the device on the go, and control the settings through a touchscreen as well as buttons.
Buy from Garmin | £349.99 (currently reduced to £299.99)
Sign up for workout ideas, training advice, reviews of the latest gear and more.
Charlie Allenby is a journalist with a passion for pedalling. He contributes features and buying advice about cycling, and is Coach's dedicated turbo trainer reviewer. He is also Coach's chief whey and casein protein powder tester, trying as many brands as possible.
Charlie's first book, Bike London, is out now. He has written for The Guardian, The Independent and BikeRadar, among others.