The Secret To Cycling Training in the Winter – Take it Easy in November
Time trial champ Alex Dowsett on hitting the training sweet spot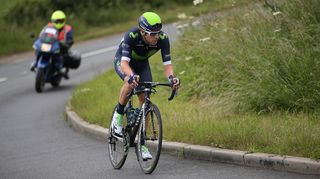 (Image credit: Unknown)
Whatever cycling plans you have for 2017, get a jump on them with a proper winter training schedule. No one enjoys endless hours on cycling machines, but just keep thinking about how impressive you'll be on the roads next spring to keep your motivation up.
To get the best insight on a winter training programme, Coach spoke to Alex Dowsett, Movistar rider and founder of Cyclism coaching, whose first advice was very welcome. "For the first month just enjoy yourself," he explains. "Don't get too motivated too soon. It's easier to be super enthusiastic in November, but you don't want to be tired of it come February/March, so don't go nuts in November." Naturally, the good times have to end, and come December it's time to start cranking up the workload with some strength sessions.
RECOMMENDED: Exercise Bike Workouts
"For us it's getting 30-hour weeks in, but of course if you have a full-time job that's impossible," he says. "You've got to start dropping intervals in. Massive gears. A good session would be repeating five minutes on, five minutes off, in the biggest gear you've got; the hardest resistance. Just really try to mash the pedals round, focusing on keeping your core tight and delivering that power. It's not that taxing on your cardiovascular system, but it does a lot of muscle damage. You'll feel crap for a few days, but it pays dividends."
When the New Year arrives, the focus moves from strength to fitness, hitting the "sweet spot" in your training sessions. "The sweet spot is the top of zone 3, low zone 4. Zone 4 is that pace on your limit, but still sustainable. Zone 3 is the pace you'd do if riding with a group, doing a bit of touring. You're a bit breathless, you would struggle to have a conversation. Somewhere in between those.
"Warm up for 10 minutes, including a few little efforts. Then 10 minutes of sweet spot, five minutes' recovery, repeat as many times as you can. Play around with lengths and rests, just to keep things interesting. Also, if you keep doing the same thing you become very good at it, and don't get the same benefits out of it as before. It's about shocking your body."
Alex Dowsett will be representing Adidas Eyewear at the Rouleur Classic on November 3. Tickets available at rouleurclassic.cc
Sign up for workout ideas, training advice, reviews of the latest gear and more.