Could This Airbag For Cyclists Replace Traditional Helmets?
Cycling airbags trump foam helmets in US study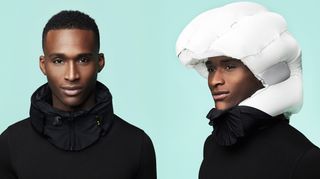 (Image credit: Unknown)
This year's must-have accessory for the safety-conscious cyclist could be an airbag, with a Stanford University study finding that the inflatable life-savers reduce impact on the head by as much as six-fold compared with foam helmets.
The airbag helmets tested in the study are made by Swedish company Hövding. They come in a soft pocket that's worn around the neck, like a collar, and are able to sense a collision and automatically inflate within a fraction of a second to envelope the cyclist's head before impact.
The significantly larger size of the airbag (when inflated) compared with a regular helmet, which allows it to provide more cushioning, is the key to its success, especially when it comes to reducing the likelihood of suffering a concussion. Traditional foam helmets are tested to protect against skull fractures and other brain injuries, but are not designed to prevent concussions.
The Hövding airbag was originally designed as a way for riders to preserve immaculate hairstyles while cycling, unless they did get into an accident, of course, although you'd probably stop caring about even the most impressive quiff at that point. It's able to differentiate between normal movements and accidents and so won't give you the fright of your life by inflating when you bend over to pick up keys. The Hövding website does, however, warn that in the event of an accident where the cyclist themselves does not move much – for example when something falls on their head – the airbag will not be able to provide protection. Keep your eyes peeled.
The Hövding Airbag
If you're convinced by the safety and style arguments provided by an airbag helmet, you can find a list of UK retailers that stock the Hövding on their website hovding.com. It'll set you back a cool £220.
Sign up for workout ideas, training advice, reviews of the latest gear and more.