Cyclocross: The Winter Sport For Cyclists
Don't let winter keep you from cycling, give cyclocross a try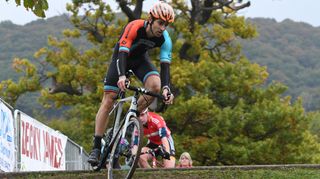 (Image credit: Unknown )
As the road cycling season draws to a close, aside from a few hardcore winter events, many riders are faced with a winter of chilly commutes and indoor workouts. However, there is one kind of cycling that comes into its own at this time of year: cyclocross.
Notionally a mix of road and off-road racing, cyclocross pits riders on slim-wheeled bikes against a rugged, generally very muddy, course that usually includes obstacles that you have to carry your bike up, over or around. Most events involve doing 10 adrenaline-filled laps of a circuit in an hour of racing.
It's very hard work, but a lot of fun, as Gruffudd Lewis, pro cyclist with Madison Genesis and keen cyclocross rider, explains: "Cyclocross improves bike-handling skills, teaches you a lot about pacing and gives you that high-end fitness.
"On top of all this, the scene is typically very welcoming with kids and parents taking part in the day's racing. I believe it also gives a rider such as myself added skills to tackle my road season."
Tips For Cyclocross Beginners
Here are a few pointers from Gruffudd Lewis on how to get started in cyclocross:
Whatever your level, as a beginner, I believe racing sooner rather than later is the best way of learning quickly. Races take place on most weekends and can be found easily online.
Find a technically challenging circuit to practise on. Practice dismounting and mounting the bike, and find out where running is sometimes faster than riding.
Don't feel pressure to follow other riders' lines. Often you will find alternative lines with more grip that are better suited to your style.
The Right Bike
You can use a mountain bike for most cyclocross events, but if you get addicted to the sport, a specialised ride will be preferable. Cyclocross bikes have a few key differences to standard road racers, such as wider clearance on the tyres and smaller gears, both required to overcome the resistance of the muddy trails.
These actually make them a fine all-round option for commuters, as you speed along roads faster than on an MTB, and can take them down crafty shortcuts on canal paths and trails where regular road bikes might have to be carried. The Ribble CR3 is one excellent option for cyclocross converts to consider.
Want to give cyclocross a try? The London X League runs regular events through the winter, londonxleague.co.uk. Madison Genesis wear Madison cycling clothing, madison.cc.
Sign up for workout ideas, training advice, reviews of the latest gear and more.