Pro MTB Rider Brendan Fairclough On The Joys Of Getting Muddy
Fair warning: watching new film Deathgrip could ignite an unquenchable desire to head off-road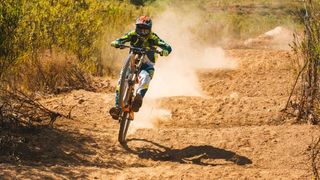 (Image credit: unknown)
Road cycling is a great way to spend your time, but every now and again – when there's a full moon or something – even keen riders will experience a hankering to ditch the rolling Tarmac in favour of something a little bumpier. And watching the new film Deathgrip, which features pro mountain bike rider Brendan Fairclough tackling a variety of death-defying trails and jumps all over the world, that urge to head off-road will probably become insatiable about 15 minutes in.
We spoke to Fairclough ahead of Deathgrip's release to learn more about his love of MTB and get his advice for beginners keen on hitting the trails.
What made you pick mountain biking over other types of cycling?
Growing up we lived close to the woods, and I just loved getting dirty and scrapping around in the mud. I've done a little bit of road riding but it hasn't got the same appeal to me, it's a bit clean-cut.
Going off-road is also more unpredictable. On roads it's mostly the same conditions, the same surface. Off-road there's a lot of different factors the come into it – rocks and roots and mud and rain – that I think makes it more exciting.
What the best way for a beginner to get into MTB?
Just get a helmet on and go and try it. Do some research to find some easy routes – there's one at Swinley Forest in Bracknell which is a really good place to start if you're in the London area.
There's lots of places popping up and everywhere has easier routes – that's a brilliant place to start. Don't push yourself too hard too early, but get out there. Get it done!
Where are your favourite places to ride near London?
My favourite place is in the Surrey Hills – at Peaslake. There's also Leith Hill, Holmbury Hill… all around the Surrey Hills area there's such incredible riding for all different abilities. I think that as long as you're having fun and finding new stuff to try that's all you need. And there's plenty up there to keep you busy.
You travel to some incredible locations in Deathgrip – did any stand out as particularly amazing
The place that surprised me the most was the island of Madeira. We had two sections there in the movie – a jumps section where I'm riding down the edge of a cliff and another on a track up in the mountains. It was a really cool location. It has like five different ecosystems on one island. There's jungle, desert, grassland, forest… it's unique.
What was the scariest part of filming? Do you even still get scared when riding?
Absolutely! The last section of the movie is in Utah. I went out there for a week to build everything that we rode and there's a lot of stuff that I'd have paid quite lot of money not to hit.
Quite a few things there were uncomfortable but we came away with some incredible footage.
There was a jump… I went into a weird place. I was thinking, "shit, even if I don't land this the crash will look epic on the cameras so that will be good" – which is quite a stupid way of thinking.
But you landed safely?
Yeah.
Phew!
Deathgrip will be released on 30th May through iTunes and other digital platforms. You can pre-order now (opens in new tab) through Vimeo On Demand
Sign up for workout ideas, training advice, the latest gear and more.