Can Ofo Make Dockless Bikes A Success In The UK?
As long we all stop parking them in canals, dockless bikes make a lot of sense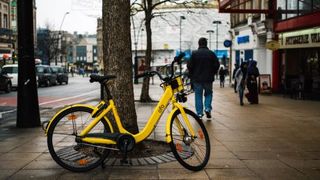 (Image credit: Unknown)
You might not have realised it yet, but the dockless bike revolution is slowly but surely sweeping over the UK. London alone has seen four operators – Ofo, Mobike, oBike and Urbo – launch over the past year.
As with anything new, there has been some resistance to dockless bikes, with the most common reason for scepticism being that if hire bikes don't have docks to return them to, they'll end up scattered around in annoying fashion. Because as we all know, the general public cannot be trusted to do the right thing.
However, trying to turn back the tide of dockless bikes is a futile gesture, because they make too much sense. They provide a cheap and green form of transport for people in cities that doesn't cost local authorities a penny, and they can be launched overnight due to the lack of infrastructure they require.
Ofo (opens in new tab) is one of the biggest bike-sharing companies in the world, operating more than ten million bikes in 250-plus cities worldwide. Since launching in the UK in Cambridge in 2017, Ofo has arrived in Oxford, Norwich, Sheffield and three London boroughs – Hackney, Islington and the City of London – with more cities and areas of the capital to follow in the coming months.
See related
Instead of launching without seeking permission first – a tactic that other bike operators have tried, only to be kicked out of cities later – Ofo gets agreement from local councils before launching its bright yellow bikes on the streets. To do this, it agrees to certain requirements like agreeing to clear bikes parked in dangerous areas within ten minutes of being told about them.
It costs 50p per half-hour to ride an Ofo bike, with the cost capped at £5 a day. After finding the nearest bike through a map on the app, you unlock it by scanning a QR code on its frame, and away you go. When you finish, lock it up (somewhere sensible) and walk off.
Ofo also has a system that incentivises good behaviour, with riders who park the bikes in areas marked with a green logo in the app currently getting their next ride free. Ofo users also start with a certain amount of points and can increase their total by using the bikes correctly, or lose points by leaving them in stupid places.
In China, where dockless bikes have become ubiquitous in cities, having a higher point tally can lead to reduced costs for using the service, while getting point penalties increase the cost of riding. This style of points system hasn't been introduced in the UK yet, but expect it to arrive when dockless bikes become more common.
Using Ofo in London at the moment can be a frustrating affair, because there are only 1,000 bikes on the streets in just three boroughs, making them tough to find in a pinch. You can ride outside the boroughs where Ofo operates, but when you park the bike it will be locked so only you can use it again, and if you don't do that within 12 hours it will be returned to an Ofo borough by one of the company's marshals, who ride around on cargo bikes moving the fleet around to the most convenient locations. In the future, Ofo plans to introduce incentives to help keep their bikes in useful locations by offering users free rides or points within the app if they ride to a certain place that's short of bikes at that time.
For now, the biggest problem with dockless bikes is the challenge of getting hold of one when you need it, but in the long term the bigger problem might be too many bikes, especially if several operators launch in the same city at once. But if users can somehow refrain from launching the bikes into rivers or up trees after using them, there's no reason why dockless bikes can't become the norm for short trips in cities.
Sign up for workout ideas, training advice, reviews of the latest gear and more.