Let The Big Bike Revival Help You Enjoy Cycling Again
Dig out your bike and join the free events nationwide to rediscover your love of cycling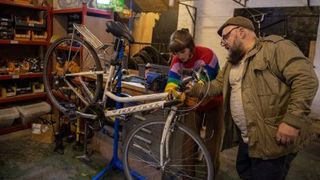 (Image credit: Unknown)
Do you own a bike but never use it? Be honest now, because according to Cycling UK, that's the case for 42% of us. And we get it – often the most exciting part of cycling is picking out your brand new bike and taking it for your first few rides. But once it gets a puncture, or the chain gets stiff, or the weather turns for the worse, it's easy to fall out of the habit of cycling entirely and you forget how much fun – invigorating, wind-in-your-hair type fun – cycling is.
The Big Bike Revival is a campaign designed to help you unearth your old ride, reacquaint yourself with the many joys of cycling and get back in the habit, whether that's as a daily commuter, a fair-weather cyclist who'll pop out when the weather's nice or a devoted fan of the Sunday long ride.
As part of the campaign Cycling UK is providing free bike checks, servicing and maintenance workshops so you can quickly fix any mechanical problems that are keeping you from riding. On top of that there are group rides you can join all over the country, so you don't have to venture out alone on your return to the saddle.
See related
If you're avoiding cycling because of a lack of confidence on two wheels, there are also "learn to ride" sessions to help you regain your faith in your ability to ride a bike, which really will come back to you very quickly. There's a saying in there somewhere.
This is the fifth year of the Big Bike Revival, which put on 1,100 events in 2018. Around 7,500 bikes were fixed and 13,000 new cycling trips were made as part of the campaign. Best of all, around 9,000 people started cycling more frequently after taking part in one of the events. The evidence shows that it works, so if you're at all interested in getting back on your bike you should definitely head to your nearest event.
You can find out where that is on the Cycling UK website, which has an interactive map that lists the various events going on in the UK as part of the Big Bike Revival.
Sign up for workout ideas, training advice, reviews of the latest gear and more.