Saddle Up For Cycle To Work Day On Thursday 5th August
Whether you're new to cycle commuting or an old hand, it's worth taking part in Cycle To Work Day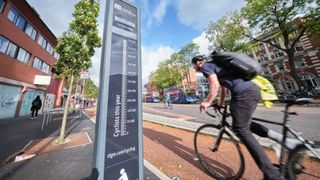 (Image credit: unknown)
There are so many advantages to cycling to work that before long you'll begin to regret not starting sooner. It's good for your physical health, of course, and it will also save you a packet on public transport or petrol.
Those are the obvious benefits, but there are also a couple of other notable ones. The first is that in many cities, cycling is actually quicker than most other modes of transport. The second is your mental health, because a little physical activity before and after the working day does wonders for clearing your head.
Naturally there are some negatives too. The danger posed by careless and aggressive drivers tends to be the thing that puts most people off, but rush hour traffic is much lighter at this time of year because schools are out and people are on holiday. In the UK another off-putting thing is the weather, but in summer – aside from the odd freakishly heavy downpour – the weather is great for cycling even here.
That's why Cycle To Work Day traditionally falls in the summer, and in 2021 it's on Thursday 5th August. Whether this is your very first time cycling to work, your first time since the last Cycle To Work Day, or your fourth commute of the week, it's well worth taking part in the event and helping to share the joy of riding to and from the office.
See related
The big day is partnered with the Love To Ride campaign, which encourages people to ride to work by offering prizes to those who do so (and log their rides on the website). The whole scheme is free and designed to motivate you to keep cycling, so it's worth signing up before you take part in Cycle To Work Day.
If you're looking for more ways to keep you motivated to commute by bike, then read our interview with Chris Bennett, head of behaviour change at walking and cycling charity Sustrans. Here are a couple of the top tips Bennett gave us to help people get into cycling regularly.
Avoid busy roads
"You don't need to go the quickest route while you build up confidence," says Bennett.
"Route-planning apps are ideal when looking for traffic-free routes – things like traffic-free cycle paths, canal towpaths and parks, which are all much easier."
You don't have to ride every day
"There's nothing wrong with being a fair-weather cyclist," says Bennett. "Start doing it on the nice days or when you have time the night before to prepare, or when you don't have a nine o'clock meeting."
Make it social
"Cycle with somebody else or chat to people about your cycling – about gear or routes, that kind of thing," says Bennett. "There's a great social element to it that all cyclists should enjoy."
Sign up for workout ideas, training advice, reviews of the latest gear and more.