Beware The Drastic New Year Detox Plan
It sent one woman in Milton Keynes to intensive care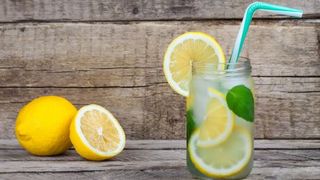 (Image credit: Unknown)
January tends to be the time that people try to live healthier lives. Which is great, as long as you don't overdo it.
For example, pledging to visit the gym seven times a week is a tad ambitious, as is committing to eating 17 portions of fruit and veg a day.
Here's another example: embarking on a drastic detox where you forgo most food and instead drink herbal remedies and huge amounts of water.
Doctors have warned of the dangers of a radical detox plan by highlighting the case of a woman who ended up in intensive care due to alarmingly low levels of salt in her body. Her milk thistle and valerian root levels were probably through the roof, but apparently that didn't help.
Drinking a lot of liquids will result in frequent trips to the bathroom, but the idea that these visits are somehow cleansing the body of toxins is dangerously misleading. Drinking too much water can be as dangerous as not drinking enough, as it depletes your sodium levels.
The general notion of detoxing your body after the hedonistic extravagances of the festive season seems to be a good one, which is why your body's organs, like the kidneys and liver, do exactly that.
Best of all, these organs are always on the case, not just in January. They're troopers, on the clock 365 days a year.
If you are ever tempted to embark on a detox regime, first ask yourself exactly what toxins you are hoping to remove from your body. Then forget about it and eat some vegetables.
Dr Frankie Phillips, a spokesperson for the British Dietetic Association speaking to Coach last year, summed it up: "The whole idea of 'detox' is nonsense."
"The body is a well-developed system that has its own built-in mechanisms to detoxify and remove waste from top to toe. The skin, gut, liver and kidneys are all chemically-controlled powerhouses that respond to signals to remove waste products."
RECOMMENDED: The Truth About Detox Diets
Sign up for workout ideas, training advice, reviews of the latest gear and more.