This High-Fibre Meal Plan Is About As Healthy As It Gets
This seven-day meal plan from the British Nutrition Foundation is high in fibre, low in added sugars and keeps the calories under control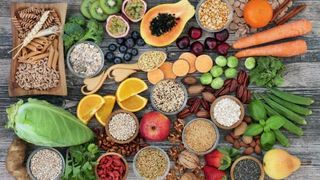 (Image credit: Unknown)
Are you eating enough fibre? The stats suggest no, because only 9% of adults in the UK do. That's according to a recent paper in the Lancet, which also analysed the results from studies and clinical trials over the past 40 years to find that eating enough fibre is a really good idea.
That's because those who ate at least 25-29g of fibre a day had a significantly lower risk of several major diseases, including heart disease, stroke, type 2 diabetes and colorectal cancer, than people who ate the least fibre. The high fibre crowd also enjoyed a 15-30% reduced risk of death from any cause, as well as from cardiovascular problems.
The study also found that eating over 30g of fibre a day – the recommended intake target – increased the benefits. But how do you go about eating that much fibre each day? You follow this seven-day meal plan, that's how.
This plan is designed by the British Nutrition Foundation and can also be found as a PDF on its website with a full nutritional breakdown. As well as ensuring you hit your fibre goals the plan keeps you from eating too much added sugar, keeping your intake below 5% of your total calories, as well as smashing your five portions of fruit and veg a day goal.
Staying hydrated is important at all times, but especially if you're looking to increase the amount of fibre in your diet – you may even want to spend a few weeks adding a selection of meals or snacks to your diet to build up your fibre intake slowly to avoid digestive issues. Alongside the below the BNF recommends drinking things like water, unsweetened coffee or tea with lower-fat milk.
Seven-Day High-Fibre Meal Plan
Monday
Breakfast: No added sugar muesli, semi-skimmed milk, banana, 150ml orange juice
Lunch: Jacket potato with tuna and sweetcorn, and salad, two oatcakes, cheese and grapes
Dinner: Chicken and spinach curry (retail cooking sauce), brown rice
Snacks: (1) Guacamole with half a wholemeal pitta (2) Four squares of dark chocolate
Daily total: 2,080 calories, 33.3g fibre
Tuesday
Breakfast: Two slices of granary toast with peanut butter, skinny latte, 150ml orange juice
Lunch: Chicken and wholewheat pasta salad, four dried apricots
Dinner: Baked salmon, new potatoes, broccoli and kale, fruit salad
Snacks: (1) Smoothie: skimmed milk, low-fat fruit yogurt, frozen berries (2) Two chocolate digestive biscuits
Daily total: 2,051 calories, 32.9g fibre
Wednesday
Breakfast: Two fortified wheat biscuits, semi-skimmed milk, chopped banana, unsweetened tea
Lunch: Cheese, chutney and salad on a malted wheat roll, one pear
Dinner: Vegetarian bean chilli with brown rice, small chocolate mousse
Snacks/extras: (1) Unsalted nuts and raisins (40g) (2) 175ml glass of red wine
Daily total: 1,806 calories, 33.7g fibre
Thursday
Breakfast: Small can of reduced-sugar baked beans on one piece of wholegrain toast, skinny latte
Lunch: Tomato soup, ham salad sandwich with salad cream on wholewheat bread, two tangerines
Dinner: Lean steak and broccoli stir-fry with noodles
Snacks: (1) Low-fat plain yogurt, berries, pumpkin seeds (2) 30g plain crisps
Daily total: 1,882 calories, 41.1g fibre
See related
Friday
Breakfast: Two fortified wheat biscuits, semi-skimmed milk, chopped banana, 150ml orange juice
Lunch: Hummus, spinach and red pepper on a wholemeal wrap, low-fat yogurt, honey, cinnamon
Dinner: Fish pie, peas, green beans
Snacks: 1) Plain scone with low-fat spread (2) Seven Brazil nuts
Daily total: 1,778 calories, 30.2g fibre
Saturday
Breakfast: Scrambled eggs, grilled tomato, two slices of wholemeal toast, 150ml orange juice
Lunch: Thin-crust margherita pizza with added vegetables, side salad, fruit salad
Dinner: Wholewheat spaghetti bolognese
Snacks/extras: (1) Flapjack slice (2) 175ml glass of red wine
Daily total: 2,139 calories, 30.9g fibre
Sunday
Breakfast: Porridge with dried figs and seeds, unsweetened tea, 150ml apple juice
Lunch: Roast chicken, roast potatoes, peas and carrots, homemade spiced rice pudding
Dinner: Cheese and onion omelette, sweet potato wedges, green salad, lemon mayonnaise
Snacks: None
Daily total: 2,188 calories, 30.2g fibre
Sign up for workout ideas, training advice, reviews of the latest gear and more.