Could The Raleigh Stride Electric Cargo Bike Replace Your Car?
It's cheaper, greener, healthier and kids love it – Raleigh's consumer model could accelerate an e-bike revolution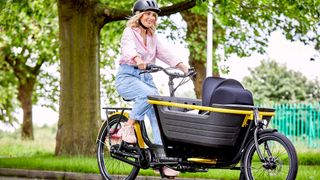 (Image credit: Unknown)
Raleigh have unveiled the Stride, the first consumer electric cargo bike from the well-known British brand, which is scheduled to go on sale this August. Two versions are available: the Stride 2, a two-wheeled model with a long wheel base, and the Stride 3 trike, a three-wheeled version with two wheels in front and one behind. In each case, a box sits in front of the rider. It follows a template set by others such as Dutch brands Babboe and Bakfiets, which offer similar designs.
The Raleigh Stride is targeted squarely at families, with benches built into the box and two child harnesses in the Stride 2 and four in the Stride 3. Accessories include a rain tent to keep your passengers dry and brackets so you can securely attach a Maxi Cosi car seat for babies.
Of course you can also use the box like a car boot and throw any shopping in it. The box on the Stride 2 can handle 80kg while the Stride 3's is capable of holding 100kg. (If you don't have kids and just want to transport stuff, Raleigh has also announced a new range of electric cargo bikes for business.)
The motor is a Bosch Performance CX Cargo Line, which applies extra torque at slower speeds and at lower pedal cadences to make it easier to get the bike moving. The removable battery has a range of 30 to 40 miles (48-64km).
We had the chance to test both models on a shortened track at Lee Valley VeloPark – with guidance by a rider from Pedal Me, a for hire e-cargo passenger and freight service in central London – and found they each felt a little different to riding a traditional two-wheeler. The Stride 2 feels the most similar to a normal bike – it's just got a longer wheelbase, which makes it a bit like driving a barge, so you need to make smaller steering movements than you usually would. We found the key technique, at least to begin with, was to pedal and brake while going downhill – just to make sure the front wheel doesn't wobble.
There's no threat of wobble with the Stride 3 trike, but the rider does need to compensate for the counterintuitive movement of the bike when turning. While a traditional bike leans into a corner, the trike wants to lean out, so you need to compensate by leaning gently into the turn.
If that makes riding an e-cargo bike sound intimidating, believe us when we say it's not. While Pedal Me offers courses for freight e-cargo riders, we were assured that's only because those drivers had to manoeuvre multiple times their bodyweight. With a little practice, anyone can ride one safely.
If you ride a bike then the Stride 2 may be more to your liking because it's more manoeuvrable, but you'll need to rock it up and off a stand to park it. The Stride 3 has a larger box, however, and a thumb switch for a handbrake.
The Stride will cost £4,395 and the Stride 3 £4,695, although if you're able to purchase it through a Cycle To Work scheme you can receive a discount of up to 39% and pay for it in small installments out of your wages.
Raleigh managing director Lee Kidger says the company hopes that not only will families in major cities see it as a better alternative to a car, but also that the Stride could replace the second family car outside of cities. That second car is often used for trips of between two and five miles, which the Stride is more than capable of doing.
See related
This may be an alien concept in the UK, but e-cargo bikes have a number of advantages and – perhaps surprisingly – the first of these is cost. Although you can get a good-quality second-hand car for the price of the Stride, an e-cargo bike doesn't require anything like the ongoing costs of (ever more expensive) fuel, tax, insurance and maintenance. Then of course there's the environmental cost of cars, especially older models, contributing to the climate emergency.
An e-cargo bike also supports better health by naturally adding light activity into your day without leaving you too knackered to do anything else. And in our experience of a week's hire of a Veloe Family e-bike over a half-term, kids absolutely love it.
The biggest impediment remains road safety, which will hopefully become less of a concern with the UK government's commitment to active travel. While some people may be tempted to wait and see, there's one major reason to act quickly when the Raleigh Stride is released: demand for all kinds of e-bikes is greatly outstripping supply. Hesitate and you could be waiting months if you change your mind.
Sign up for alerts on availability of the Raleigh Stride | Raleigh Stride 2 £4,395, Raleigh Stride 3 £4,695
Sign up for workout ideas, training advice, reviews of the latest gear and more.
Jonathan Shannon has been the editor of the Coach website since 2016, developing a wide-ranging experience of health and fitness. Jonathan took up running while editing Coach and has run a sub-40min 10K and 1hr 28min half marathon. His next ambition is to complete a marathon. He's an advocate of cycling to work and is Coach's e-bike reviewer, and not just because he lives up a bit of a hill. He also reviews fitness trackers and other workout gear.