Save £££s On An E-Bike Using The Cycle To Work Scheme
The £1,000 cap is gone. Go wild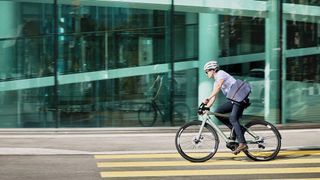 (Image credit: Unknown)
We love the Cycle to Work scheme. It's a brilliant way to encourage people to buy a bike for an active commute – basically by bribing them with the offer of a substantial saving on a new bike. And by substantial we mean 25-39% of the value of the bike, depending on your tax rate.
There were two problems with the scheme: it's not as straightforward as we'd like and it was capped at £1,000. A grand is enough to get yourself a great commuter bike, for sure, but not enough for an electric bike. A shame, because e-bikes are just about the perfect commuter option for most people, allowing you to breeze to work quickly and easily while still getting some moderate, not too sweaty exercise and avoiding the environmental impact of travelling by car or the personal-space impact of travelling by public transport.
Most e-bikes cost at least £1,500, so the Cycle to Work scheme didn't cover them. That is until this week, when cycling minister Michael Ellis announced an update to the scheme that lifted the cap entirely. Or, to be more exact, clarified that such a cap never existed. There's no need for us to get bogged down in pointless complexities. The headline is that the de facto cap is gone.
See related
No cap means you can splash out on an electric bike through the scheme, and pay for it out of your salary before tax, resulting in a huge saving. And if you don't want an electric bike, you now have the flexibility to get any road, hybrid or mountain bike you want through the scheme.
The effective removal of the cap also means that you can spend more on important cycling accessories without cutting into the amount of money you can put towards the bike itself. That means high-quality bike locks to help deter thieves, a helmet, lights and a high-visibility vest, plus sporty cycling gear to make your rides more comfortable.
For a more in-depth explanation, including the nitty-gritty of how the saving works and what you can get, read our Cycle to Work scheme explainer.
Sign up for workout ideas, training advice, reviews of the latest gear and more.