This Gym Ball Abs Workout Will Leave Your Core Quivering
Add an extra challenge to your abs training by using the instability of a gym ball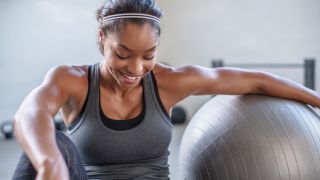 (Image credit: Getty Images)
There's a good reason why the gym ball is often used for abs workouts: the instability it creates makes all the best core exercises that little bit more challenging. Keeping yourself balanced while resting on the ball engages all your stabiliser muscles and builds functional strength that will help you in other workouts and also benefit you in your everyday life.
This quick gym ball workout targets muscles all over the body, but your midsection in particular, since with every move your core will be working overtime to keep you balanced on the ball.
Aim for three rounds of the four-move circuit, doing the exercises back to back and then resting for 90 seconds. If you have time, you can always go for another circuit, or add in some more gym ball exercises. Add two extra reps to every move once the circuit stops posing a challenge.
Gym Ball Abs Workout
1 Press-up
Reps 8 Rest 0sec
Rest your feet on the ball and walk your hands out into an elevated plank position. Lower your chest until it's hovering just above the floor, then push back up.
2 Pike
Reps 8 Rest 0sec
Start in a plank position with your shins and the tops of your feet resting on the ball. Use your feet to roll the ball towards your chest while you raise your hips towards the ceiling to form an inverted V. Roll the ball back out again.
Reps 8 Rest 0sec
Lie face down with your hips supported by the ball and your feet on the floor. Place your hands by your temples and engage your core, glutes and hamstrings, then raise your chest and straighten your legs. Then lower back to the start.
4 Glute hamstring raise
Reps 8 Rest 90sec
Lie on your back with your shoulders on the floor and your heels resting on the ball. Engage your core to raise your hips and form a straight line from your shoulders to your knees. Use your feet to roll the ball towards your bum, then roll it away again.
Sign up for workout ideas, training advice, reviews of the latest gear and more.