Do Burpees Make You Fitter? We Ask The Guy Who Did 67,000 In 2016
Burpee king Craig Peters is shooting for over 100,000 of them in 2017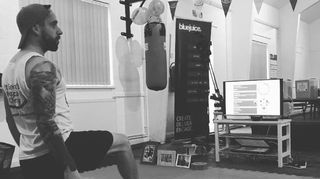 (Image credit: Unknown)
If you speak to any fitness fan they're quick to extoll the virtues of the burpee. A supreme bodyweight exercise, burpees work muscles all over the body and get your heart pumping.
They are, however, horrible to do, so you really want to be sure that you'll see the benefits of a lot of burpees. With that in mind, we got in touch with the king of burpees, Craig Peters.
In 2016, 36-year-old Peters completed 67,527 burpees, starting with one a day on 1st January, then two a day on the second, all the way up to 366 burpees on 31st December. He now plans to do more than 100,000 in 2017, all to raise money for St George's Hospital in London.
It's fair to say Craig knows a lot about burpees, so we asked him if doing so many of them in one year did indeed make him a lot fitter.
"I do feel fitter, I'm much leaner, I'm in the best shape I've been in for a long time," Peters told us. "That's one reason I don't want to stop, I do feel good, from a mental and physical standpoint."
RECOMMENDED: Take The 30-Day Burpee Challenge
The burpee is renowned as an all-round exercise that builds strength, flexibility and aerobic fitness, as well as promising functional strength – the kind you need in everyday life. So did the benefits Peters felt extend beyond basic fitness?
"Absolutely! I used to have a lot of back problems but I have had no problems in the past 12 months. It's made my body stronger and more flexible.
"It's little things like running for a bus, or going up stairs, you certainly feel a difference. It's a hell of a lot easier."
It's also important to note that the 67,527 burpee man wasn't a master of the exercise before 2016.
"No! Absolutely not. Before the challenge if someone had said get down and do 20 burpees I would have dreaded it as much as any other person.
"I've been trying to tell people, anyone can do it. When you add one each day, your body starts to condition itself."
RECOMMENDED: How To Do A Burpee And Its Benefits For Fat Loss
This year Peters has stepped up the challenge, aiming for 2,017 burpees a week for a total of 104,884 burpees in 2017.
Once again this is to raise money for St George's Hospital in Tooting. St George's saved the lives of Craig's identical twin sons, who suffered from twin to twin transfusion syndrome (TTTS), which occurs in 10% of multiple pregnancies.
"If we didn't have pioneering laser treatment there was a 90% chance we'd have lost them. This challenge, last year and this, is to raise money for those machines."
For more info on Craig, who has been supported by Reebok through his burpee challenges, and to track his progress, you can follow him on Facebook @ForTheBoysTTTS, Instagram @theburpeeguy and Twitter @ForTheBoysTTTS.
Sign up for workout ideas, training advice, reviews of the latest gear and more.