One Of Our Favourite Fitness Apps Is Offering A Free 30-Day Workout Plan
Fiit's wide range of workout videos are a great way to begin a fitness kick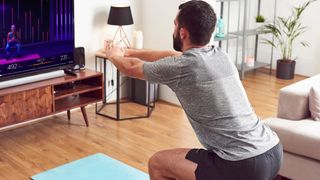 (Image credit: Unknown)
If you have grand plans to get fit in 2019 but aren't sure exactly how to make it happen, then here's a freebie that you should take advantage of. Fitness app FiiT, one of the best workout apps, is offering free access to a 30-day plan that includes a range of workout videos you can play in the app and follow at home.
Classes in general are great for beginners, because you don't have to think about what to actually do in the gym – just follow what the trainer says and you'll get fitter. Classes you can do at home without having to pay a penny? Well that's even better.
We were impressed when we reviewed the FiiT app at launch, and since then the range of classes has expanded massively, with the sessions grouped in three categories – Cardio, Strength and Rebalance.
The Cardio classes are HIIT workouts with a focus is on getting your heart rate up and increasing your cardiovascular fitness, while Strength sessions involve bodyweight exercises to build muscle. The Rebalance section of the app consists of yoga and Pilates sessions to improve your flexibility and mobility.
On the 30-day free plan you don't get access to everything on FiiT, but you do get access to four classes a week across the categories, which will be more than enough to get you going in the new year. The balance of HIIT and strength workouts alongside the stretching sessions will help ensure you don't go overboard in one discipline and burn yourself out, instead laying a broad foundation for a year of active pursuits.
You don't have to enter any payment details to take advantage of the 30-day plan, which is available from 2nd January 2019. Just download the FiiT app (App Store only) and select the 30-Day Plan within the app. You also don't have to start the 30 days promptly on the 2nd January – you can sign up at any point before the 31st, after which the plan will only be available to premium FiiT members.
Premium membership to the app gives access to every class FiiT has and costs £45 a quarter or £120 a year. If you opt for premium membership you also get sent a FiiT heart rate tracking chest strap that links to the app to count reps in Strength sessions and help ensure you're working at the right intensity in Cardio classes.
Sign up for workout ideas, training advice, reviews of the latest gear and more.