Sweatcoin Is The Fitness App That Pays You To Walk More
Sweatcoin aims to get the least active moving with cash rewards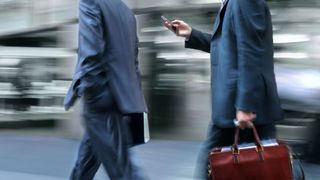 (Image credit: unknown)
What motivates you to exercise? In an ideal world, your first response should be the sheer unadulterated joy of it, but we don't live in an ideal world, and for most people the responses will involve hoping to lose weight, or getting fitter and healthier.
If you use the fitness app Sweatcoin, though, it could be cash. Sweatcoin, like other reward apps Running Heroes or Pact, aims to incentivise you to get moving by awarding you Sweatcoins if you do. These coins can then be used to purchase a variety of rewards, ranging from small items like a razor or a trial of a streaming service all the way up to a new iPhone (you'll be doing a lot of walking for a couple of years if that's your goal). The rewards cost anywhere from five coins up to 20,000, with 1,000 outdoor steps earning you 0.95 Sweatcoins.
It's a simple idea, and one that works, according to new research undertaken by the Institute of Digital Healthcare at the University of Warwick. The study, which named Sweatcoin's founders as co-authors, looked at 6,000 Sweatcoin users and found an average sustained increase of around 20% in their daily step count over the six months they used the app, compared with the three months before they signed up.
Perhaps most encouragingly, the users most likely to increase their step count were those who had previously been particularly sedentary. This is right in line with the app's main aim, according to Anton Derlyatka, one of Sweatcoin's founders.
"Sweatcoin's mission is to make the planet more active with an emphasis on the people who struggle to find motivation," Derlyatka told Coach. "We are less concerned with making people who are already active – say walking or running 10,000 steps a day, or cycling or swimming – even more active. Our core focus is reaching those who struggle to find motivation for the most basic types of physical activity, such as walking, and make them walk more. For example taking 900 steps a day, up from 600 steps a day.
"The fact that Sweatcoin drives a disproportionate increase in activity level among those with extra weight or low activity levels means we are successful at targeting the segment that is most difficult to reach. This segment is the major driver of obesity and other conditions linked to lack of physical activity."
Sweatcoin doesn't reward any activity aside from walking outdoors, so regular gym-goers or swimmers won't be earning anything from the app, though keen runners might find they rack up a lot of coins in short order. However, to do that you will have to upgrade your membership, because free users of the app can only earn up to five coins a day or 150 a month. There are four levels of membership at the moment, with the top one allowing you to earn 20 coins a day and 600 a month.
The good news is you upgrade your membership using Sweatcoins and it's certainly a worthy investment to do so if you are racking up the steps each day. The top level of membership costs 30 coins a month, so if you're earning 20 a day it quickly pays for itself. The study did not look at the different subscription levels people had with the app, just the step count logged each day, because the app tracks your total steps regardless of whether you're getting rewards for all of them.
Download Sweatcoin on the App Store or Google Play | Free
Sign up for workout ideas, training advice, reviews of the latest gear and more.