Struggling With An Injury In Lockdown? Visit A Virtual Physio
Ascenti's online physio service allows you to consult with a physio without leaving the house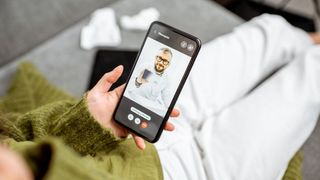 (Image credit: unknown)
People who need physiotherapy right now – whether struggling with a long-term condition or having picked up a new injury attempting a wild array of new home workouts – are in trouble, thanks to the lockdown put in place to slow the spread of COVID-19.
Fortunately, we live in a golden age of communication. While you may not be friends with a physio who you can lure into an ad hoc consultation with the promise of a trivia session on House Party, you can access one through Ascenti's online service (opens in new tab).
The service is operated through the Ascenti app which, along with video appointments with a physio (opens in new tab), also has a variety of tools to help you manage your condition, including exercise demonstrations and progress diaries you can share with your physio. These are all restricted to clients, though – you can't just open the free app and get access to them.
The online sessions cost £35 for 30 minutes, but are free for anyone over 65 or who works for the NHS. You just need to fill in this form (opens in new tab) to access the free treatment.
See related
"The online physiotherapy sessions work just as if you're having a Facetime or Skype call with a friend," says Stephanie Dobrikova, CEO of Ascenti, "but these video calls are just part of a digital experience that will help to educate, motivate and rehabilitate patients through this challenging time."
The lockdown has changed the way many people exercise, whether it's taking advantage of the exercise allowance to get out for a run or cycle every day, or embarking on a series of increasingly aggressive home HIIT sessions. As we all know, changes lead to new strains on the body. Overdo it and those strains can lead to niggles, and niggles can lead to the dark side. Or injuries. If it's the latter, don't ignore it – see a physio.
Sign up for workout ideas, training advice, reviews of the latest gear and more.