Upgrade Your Home Workouts With The F45 Challenge App
Get free access to virtual F45 classes through the app until 1st June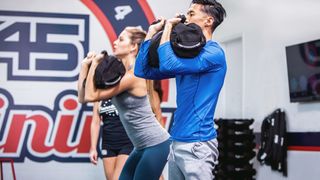 (Image credit: Unknown)
At this stage of the COVID-19 lockdown, your home workouts might well have started to get stale. The internet might be awash with excellent free workout ideas right now, but finding something new each time can be a drag, and perhaps you're starting to yearn for the days you could outsource all the planning to a favoured gym or studio.
If so, good news! Worldwide functional training franchise F45 is adding two new bodyweight workouts a day to its F45 Challenge app and making access free until 1st June. The F in F45 stands for functional, with all the classes built around functional exercises that work a variety of muscles and joints. And the 45 stands for 45, because the classes are 45 minutes long.
The Challenge app has been around for a while and includes a nutrition planner and the facility to track your exercise, meals, water intake and sleep, as well as the size of your muscles, but we're here for the workouts so let's focus on them. The first option will be one of the brand's Gravity classes, a HIIT workout that promises "to develop aerobic conditioning, plyometric and agility skills" (expect lots of jumping). The second is Calypso Kings, which consists of stretches, a fine activity if you find yourself worse for wear a day or two after tackling a Gravity workout.
From 1st June, the app will also include on-demand videos of the studio's most popular HIIT classes, including Romans, Hollywood and Athletica, but will cost £30 a month. It's a shame users won't be able to try out the full range of on-demand classes during May, but you are getting two bodyweight sessions every day to do at home until then for free.
See related :
Although the daily workouts on the app at the moment are based around bodyweight moves, F45 classes usually involve using equipment, whether that's free weights or accessories like agility ladders, skipping ropes or resistance bands. To make it easier for people to get what they need to follow the workouts in the app at home, F45 sells two different Live Inclusive Interval Training (LIIT) Kits, which can be ordered now from the Australian F45 website for delivery in late May.
The standard LIIT kit costs $96 (AUD, approximately £50) and includes agility cones, sliders, an agility ladder, a skipping rope, plus an array of resistance bands. The LIIT Kit Pro is $215 (approximately £110) and adds 8kg kettlebells, 4kg dumbbells and an 8kg weighted ball. Shipping to the UK costs an additional $14.50 (approximately £7.60).
We're going to give the F45 Challenge app a whirl once the full paid version goes live, so check back for a review in June to see what we think of it. Until then, enjoy the free workouts!
Download from App Store or Google Play | Free until 1st June, £30 after
Sign up for workout ideas, training advice, reviews of the latest gear and more.