The Best Golf Watches And Laser Rangefinders To Improve Your Game
No caddy? No problem! These golf watches and rangefinders will help you around the course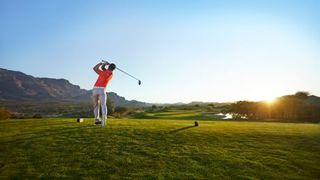 (Image credit: unknown)
There is no golf technology out there that can swing the club for you, but the best trackers and rangefinders can offer useful insight into both the course you're playing on and your own game. All levels of player can benefit from using a tracker, which acts like a basic caddy in providing info that will help with club and shot selections as you plot your way around the course.
Below you'll find our picks of the best golf watches and laser rangefinders, but first we thought it wise to get some expert advice on what to look out for when buying a golf watch, so we enlisted John Cheesbrough, senior category buyer at retailer American Golf.
Golf Watch Buyer's Guide
What features do golf watches offer?
Originally they were focused on simple measurements, such as from the player's position to the front, middle and back of the green. Watches can now tell you the distance to certain hazards on a hole, as well as providing a view of the entire hole.
What are the benefits of using them?
For the infrequent golfer, the basic watches are great just to give a general idea of distance which helps with club selection. For the golf enthusiast or lower handicap players, the more techy watches enable you to plot your way around the golf course in order to maximise your score. Some watches even give you feedback on your swing tempo which is a great feature when practising on the range.
How much should you expect to pay and what do you get if you spend more?
GPS watches can cost from £130 up to £400. As you spend more you typically get more features and a more aesthetically pleasing device. The top-of-the-range watches will give graphical views of holes with distances provided in the way that you typically see them on a course guide. Some brands are also introducing technology that links the GPS watch to golf club via sensors, providing even more feedback.
Who are the main golf watch brands and do they differ much in what they offer?
There are a few main brands in the GPS watch market, including Garmin, Bushnell and Golfbuddy. Brands typically differ through the look and feel. In terms of functionality, there is not much difference.
How Can Golf Tech Help Your Game?
What different players can get out of golf tech often depends on their ability level, so we enlisted professional golfer and Garmin ambassador Rick Shiels for his advice on how high, mid and low handicappers can best use the tech available.
High-Handicap Golfers
"I always feel that high handicappers – and even golfers with no handicap – can improve by having benchmarks for distance," says Shiels.
"If you go to the driving range and notice that when you use your seven-iron the golf ball is landing at the 100 marker, that'll give you insight when you're out on the golf course. You'll have the confidence to say, 'I hit 100 yards on the range on with the seven-iron, so this shot should be with my seven-iron.'
"If you then hit that seven-iron shot too far, learn from that. Maybe you can hit a seven-iron 140 yards with a good shot. Tech helps you learn what you're capable of doing."
Mid-Handicap Golfers
"Every mid handicapper can go out and hit certain shots like a single-figure handicapper," says Shiels. "The issue mid handicappers have is they're not consistent.
"What the technology offers is a very clear understanding of what lies in front of you. A golfer might know that they often hit the ball to the right, so if they look at GPS and see there's a bunker or water on the right then they can hit a shot aiming further left to avoid trouble.
"As a mid handicapper you're starting to know distances better. You're starting to know how far you consistently hit your seven-iron, driver or pitching wedge. Having technology that gives you distances helps you hit the best shot you possibly can."
While a high handicapper might use tech to learn about their game, mid handicappers who already know their game well can learn about the course and how to fit their game to it.
"Often we play courses we've never played before," says Shiels. "And if it's a high-end golf course you might not get the opportunity to play it again. If it's a special occasion you want to play your best golf. The GPS will help you learn the golf course and play your best golf quicker."
Low-Handicap Golfers
Precision is the big difference between low-handicap and high- or mid-handicap golfers, and if tech can help you save one or two shots in a round, that will make a huge difference.
"As a high handicapper, the difference between a 90-yard shot and 70-yard shot might not be a big deal – as long as you hit the green you're not too fussed," says Shiels. "But low handicappers are not just looking to hit the green, they're looking to attack the flag. Being able to zap the flag and see it on the GPS helps you know the hole. You know if it's playing downhill, uphill, or level, or if there's a bunker you've got to carry at 82 yards and the flag's at 83. Those extra bits of information that you receive from the technology are vital to give a single-figure handicapper the best opportunity to make a great attempt at the flag."
The Garmin Z80 laser rangefinder also has a flag finder mode, which can help golfers hit shots when they're unsighted, a feature that Shiels says is extremely useful.
"This is going to save golfers many, many shots," says Shiels. "If you're having to run 20 yards up a hill to see where the flag is and then run 20 yards back down the hill, that's going to put a strain on your golf game. You're out of breath and you're not in the right frame of mind. With the Z80 you can flick a switch and get a compass that points towards where the flag is, giving you a target line to aim at with confidence."
The Best Golf Watches
Hole19 app on the Apple Watch or Android Wear OS device
If you already own one of these smartwatches then your best option might be to download the Hole 19 app rather than buy a dedicated golf wearable. On the watch you get the distance to the front, middle and back of the green, and you can also log your scores on each hole, including extra info like how many putts you took and whether you hit the fairway with your drive. It's not the most advanced offering, but it's free and you get maps of each hole on the partner smartphone app. Hole 19 also has a premium app option which adds more features like a club recommendations for your shot.
Download on App Store and Google Play | Free, premium £6.99 a month, £22.99 for six months, £39.99 for a year
---
This easy-to-use watch does everything a beginner might need to help them through their round. There's distance to the front, back and middle of the green given, as well as details on doglegs and hazards, plus you can track your score for the round on the watch itself. And if you nail one shot in particular, you can also track its exact distance to brag about it later. There are more than 41,000 courses preloaded on the watch, so you can be confident your local club is on there, and the 12-hour battery life should get you through two rounds.
Buy from Garmin | £139.99 (currently reduced to £119.99)
---
garmin-approach-s12-gps-golf-watch
The S12 is an upgrade on the S10 in terms of both style and substance. The round screen has a higher resolution that's easy to read on bright days, and the battery life is 30 hours in GPS golf mode, compared with 12 on the S10. You'll get all the key info you need to complete your round, like distance to the green and hazards, in a device that's good-looking enough to keep on off the course as well.
Buy from Garmin | £179.99
---
The key selling point of the GolfBuddy W10 is a 1.3in (33mm) colour touchscreen, especially when that glorious screen is combined with a sub-£200 price. The battery life is fairly modest at 10 hours in golf mode, but that's still enough for a couple of rounds unless you get stuck behind an especially slow group (or are that especially slow group). On each hole you get a map view of the entire hole, plus distance to hazards, and it's easy to keep track of your round with the digital scorecard.
---
The crème de la crème of golf watches. The Approach S62 has a glorious 1.3in (33mm) colour screen that shows off a wealth of stats and data about your game and the course you're on. You get all the usual distances (greens, hazards, doglegs) and a full map of the hole, and the S62 will also automatically track your shot distances as you walk to your ball. Furthermore, the S62 will adjust for your position on the course to show the shape of the green from where you are, provide wind speed and direction, and even give "plays like" distance estimates that take slopes into account. Despite the large screen the battery lasts 20 hours in GPS mode, and up to 14 days in watch mode. Off the course, the stylish design means the watch can be worn anywhere, and you can also track other activities like running, swimming and cycling with it.
Buy from Garmin | £479.99
---
See related
The Best Laser Rangefinders
GolfBuddy Aim L10V Rangefinder
This is the best rangefinder you'll find for under £300. The L10V is light and has six-times magnification to make it easier to lock on to your target before you press a button to get the exact distance to that point. The L10V also has a scan mode so it can scan the area targeted for ten seconds and give the distances of various points, and it provides slope-adjusted distance (a feature you can disable for tournament play when required). It will also read the distance of the target selected out loud, as well as showing it in the viewfinder.
---
The small screen on the side of this rangefinder shows the distance to the green (front, back and middle) to help you make the right decision about your club even when you can't see the flag to use the laser rangefinder. When you can, use the laser to get front, back and middle distances through the sight. It's a winning combo of both GPS and laser – the Bushnell Hybrid was the most technologically advanced rangefinder out there until Garmin unleashed the Approach Z80.
---
Peering through the sight of the Z80 opens up a whole new world for golfers, with unrivalled features that combines the best of a laser rangefinder and a GPS in one device. You can lock on to targets and get distances to the front, back and middle of the green and hazards, and on the left of the screen you also get a 2D colour map of the hole you're on, including estimated distances for your drive as well as to various hazards. It's a comprehensive package that takes a little getting used to, and the price is steep, but as the best combination of a rangefinder and a GPS available, the Z80 is worth the outlay.
Buy from Garmin | £579.99
Sign up for workout ideas, training advice, reviews of the latest gear and more.