The 745 is a very good triathlon watch, with the top-notch tracking I've come to expect from a high-end Garmin, plus upgraded training and recovery analysis tools. However, I hesitate to recommend it wholeheartedly because the battery life is below par, while the price puts it in the same ballpark as even better watches, making it a whole lot more expensive than options that offer the essential features a triathlete requires.
For
Typically excellent sports tracking
New training and recovery analysis
Effective suggested workouts
Connectivity via both ANT+ and Bluetooth
Music storage and Spotify offline
Small and lightweight
Against
Need chest strap to get the most from the training analysis
The battery life is a let-down
Good multisport watches are available for a lot less
The superior Garmin Forerunner 945 is available for a little more
This review was first published in October 2020, but has been updated and revised since then.
Interest has spiked in the Garmin Forerunner 745 because of a significant discount on the multisport watch for Prime Day 2023. Below you'll find the original review which will help you understand the range of features it offers, but to get a sense of how it compares with the current line up, read this: Should you buy the Garmin Forerunner 745 in the Prime Day sale?
US Deal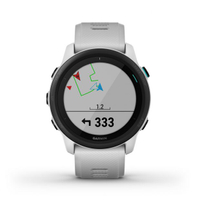 Garmin Forerunner 745: was $499.99 now $279.99 at Amazon
Save $120 The Forerunner 745 is one of the older watches in Garmin's line-up, but at this price it's worth considering as a triathlon watch that's perfect for those with small wrists. The Forerunner 255 Music is a better and more up-to-date Garmin triathlon watch, with features like multi-band GPS, but even in sales you can't get the 255 Music for $279.99, so the 745 is tempting at this low price.
UK Deal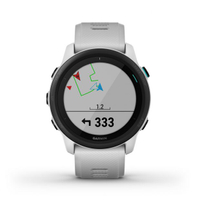 Garmin Forerunner 745: was £359.99 now £229.99 at Amazon
Save £130 The Forerunner 745 is one of the older watches in Garmin's line-up, but at this price it's worth considering as a triathlon watch that's perfect for those with small wrists. The Forerunner 255 Music is a better and more up-to-date Garmin triathlon watch, with features like multi-band GPS, but even in sales you can't get the 255 Music for £230, so the 745 is tempting at this low price.
Garmin Forerunner 745: Price And Availability
The Garmin Forerunner 745 cost £449.99 when it launched in September 2020.
Garmin Forerunner 745 Design
There is a black version of the 745, which is the most understated option, but it's still not exactly smart. The plasticky, sporty design of the watch might not suit the office, and the small frame might count against it here – the 945 is similar in design but larger, which somehow makes it smarter-looking in my eyes.
Running With The Garmin Forerunner 745
I've been using the 745 alongside a Garmin Fenix 6 Pro to track all my runs for the past few weeks and in terms of the essentials there's nothing to choose between the two of them. You can set up the data screens to show six stats at once and I can't think of any stats that are missing, aside from native running power measured from the wrist, which is on some Polar and Coros watches. You can also programme structured workouts in the Garmin Connect app to follow on the device.
The 745 can link up with the widest possible array of sensors. Running footpods and certain chest strap heart rate monitors like the Garmin HRM-Pro can take advantage of the 745's ability to display advanced running dynamics, like vertical oscillation and ground contact time, as you train.
The watch has breadcrumb navigation, rather than full maps like the Fenix 6 Pro and Forerunner 945, but it does offer the ClimbPro feature also available on that more expensive pair. This breaks down the elevation on a planned route, so you know how much uphill work is to come overall and on the specific climb you're on. PacePro is also included, which can help you pace your races, generating a customised strategy according to the inclines on a course and when they occur.
I have no concerns about the GPS accuracy of the 745 after using it for a few weeks. Even under tree cover it gave pretty smooth pace readings. It logged an impressive 10.16km for a 10K trail race with a route that tested GPS to its max, with frequent sharp turns, tree cover and a runner zigzagging across grassy tracks.
The heart rate accuracy wasn't as good, however, and given the training and recovery insights the watch offers, this is a problem. I had several runs where the 745 closely matched a chest strap's readings, but as many where it missed spikes in heart rate during intervals, and one easy 30-minute run where it had me in the red zone throughout.
Because of this I wouldn't be keen to use it to guide me through heart rate-based workouts, and it also completely throws off your training load and recovery advice, as well as the suggested workouts on the 745. That 30-minute easy run was a shake-out before a race, but since the 745 thought I had spent the time pushing myself to the absolute limit it suggested I basically stayed still for three days. Not the advice you want on race morning.
I'd highly recommend getting a chest strap heart rate monitor to pair with the watch, which you can do via ANT+ or Bluetooth. With these accurate readings feeding into the 745, the training load advice becomes very helpful. You can see if you need to add more short, sharp sessions to improve your anaerobic fitness, for example, or if what you're lacking is more easy runs.
Each day the 745 will also suggest workouts to help you balance that training load, complete with target paces based on your past training. These suggestions include base runs at an easy pace, all-out sprint workouts, and most things in between. I'd assume that the type of person who buys a £450 sports watch is probably working with some kind of training plan already, but if not you could stick to the suggestions pretty closely and find yourself getting fitter and faster.
Those workouts aren't designed with races in mind, but you can get dedicated training plans for 5K, 10K and half marathon distance events through Garmin Coach in the Connect app. Once set up, all the workouts on the plan will sync to your watch for you to follow each day.
The recovery advisory has also been upgraded. Many watches will advise on how long you should spend recovering after your training session, but they don't then take into account your everyday activity or how well you've slept. The 745 does, and will notify you later in the day if your suggested recovery time has changed based on how active you've been after your training session.
Another new feature on the Forerunner 745 is a track running mode. This is similar to what debuted on Coros's wearables, in that you set the lane you're running in to get more accurate distance tracking than GPS provides.
I've never really understood the need for this, since the lines on track itself are the best distance guide of all and GPS watches are now pretty good anyway. I did a 5K time trial wearing the Fenix 6 Pro and the 745, putting the latter in track mode, and it was less accurate than the Fenix using GPS, logging 4.93km compared with 4.97km. Garmin suggests the track mode gets more accurate once you've done a few laps, so I should maybe have done that first, but either way I know how far 5K is on the track and the Fenix logging 4.97km from GPS is hardly disastrous.
I rate the Garmin Fenix 6 Pro and Forerunner 945 as the best running watches available, and the Forerunner 745 matches those devices on almost all the key features – but not all. One loss is full maps, but the breadcrumb navigation on the 745 is generally good enough to help you find your way. However, the other loss is battery life, and this is more damaging to the 745's credentials.
With only 16 hours of GPS I found I needed to charge it every four to five days as a regular runner. Pretty much every other dedicated sports watch I've tried in 2020 has been able to get through a week at least. It might not be the biggest annoyance having to plug it in every few days, but the 745 is well behind the Fenix and the Forerunner 945, and cheaper watches including the Forerunner 245, the Coros Pace 2 and Apex, and the Polar Grit X. It's not great.
If you can see past that, however, you're getting a brilliant running watch for a little less than the Forerunner 945 and Fenix 6 series, with a lightweight design that some might find more appealing than the bulky Fenix in particular.
Sports Tracking
The 745 is designed for triathletes so there's open-water swimming and a dedicated multisport mode where you can set up multiple sports in a row including transitions, whether that's a swim-bike-run triathlon, a duathlon or brick training sessions where you pick a mix of disciplines.
As with running, cycling gets suggested workouts, but this has not come to the swimming mode yet. All your training sessions feed into your training and recovery analysis though, and the watch will try to read your heart rate from your wrist while you swim. It's better to pair a chest strap for swimming because optical heart rate monitoring is hit and miss in the water.
Another boon for cyclists is the connectivity the 745 offers. You can link up all the key sensors required to get more insight on your training, including power meters and trainers like the Wattbike Atom, which my 745 automatically found when I started an indoor session.
The 745 also has a vast range of other options, so whatever kind of activity you're doing you're going to be able to log it using the watch. You can also set up structured workouts for a range of activities, and the 745 can display Garmin's preset strength, yoga and Pilates workouts, which you'll find in the Garmin Connect app.
The 745 is a truly excellent all-round sports tracker, with the only real drawback being the relatively short battery life. Keen triathletes logging multiple outdoor training sessions each day will have to charge it every few days.
Activity Tracking
Along with sports, the 745 will track your everyday activity including steps, calories burned, floors climbed and active minutes. You also get Garmin's Body Battery feature, which provides an at-a-glance rating of your energy out of 100, plus stress tracking based on your heart rate variability.
Smartwatch Features
The Forerunner 745 offers music storage and can link up with premium Spotify, Deezer and Amazon Music accounts so you can sync your playlists and listen from the watch when offline. It will also display notifications from your phone, though you can't do much with these aside from reading them, and has NFC (contactless) payments through Garmin Pay. This service still hasn't seen much take-up from UK high street banks – Santander is the only one.
You can download apps from the ConnectIQ store, but the range is very limited. There are music apps for the streaming services partnered with Garmin, plus a couple of handy navigation apps, but really the ConnectIQ store is mostly filled with different watch face options.
Sleep Tracking
While Garmin devices are as good as anything available for tracking what goes on during the day, they lag behind others when night comes. Unless you're running and cycling all night, I suppose.
The sleep tracking has improved of late, though, and if you wear the 745 overnight you'll get a graph of your sleep in the Garmin Connect app the next day showing periods spent in light, deep and REM sleep. You can also use the PulseOx sensor to get blood oxygen saturation data through the night, but this info doesn't add much and it drains the battery so I turned the sensor off. There's a respiration timeline of your night too, with your average breaths per minute.
None of this information is explained or put into context within the app, so it's not particularly helpful, and like other Garmins I've worn the 745 would overestimate my time asleep – if you're in bed and not moving much, perhaps watching TV or reading, the chances are it'll start logging sleep.
The watch is set to get Garmin's sleep widget, which means you can see a lot of the info tracked from your night on the watch itself, including an overall sleep score and rating, but that wasn't available on the 745 while I was testing it.
Overall the sleep tracking on the watch isn't terrible, but it's a long way off what you can get from Polar, Fitbit, Huawei and Withings devices.
Battery Life
I've moaned about the battery life on the 745 throughout, so won't go over old ground here, but it is a bit short of what I expected and well behind other devices from Garmin and other companies. Garmin lists the 745's battery life as 16 hours of GPS and a week in watch mode, and those numbers will tumble if you use it for music during activities.
With real-world use I charged it every four to five days, running almost every day and logging other activities, with notifications turned on but the PulseOx sensor off. If you're less active you'll get seven days out of it, and if you're doing more outdoor training then it might be more like three to four days.
Is The Garmin Forerunner 745 Worth It?
Start by considering the more expensive Garmin Forerunner 945. The 945 has much better battery life at 36 hours of GPS, and also offers full maps rather than breadcrumb navigation. Otherwise the 745 offers a very similar feature set in a slightly smaller, lighter package. I'd certainly be tempted to pay the extra £80 for the maps and battery life on the 945.
Alternatively consider spending substantially less for just the essential features. The Coros Pace 2 is a triathlon watch with 30 hours of GPS battery life that costs £180. It's nowhere near as smart as the Garmin for training analysis and it doesn't have navigation or music features, but the Pace 2 will track your sports well and it's so much cheaper.