Does CrossFit Deserve Its Bad Rep?
A bit excessive? Cavalier about form? Coach braves the fitness hit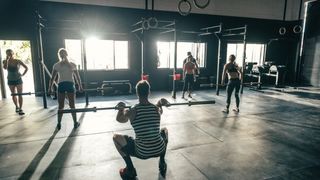 (Image credit: Unknown)
No workout has sparked more debate over the past decade than CrossFit, with its exponential growth in popularity attracting both vociferous advocates and critics. To try and cut through the bluster surrounding the sport Coach started by sampling a session.
It's clear why some might get addicted to CrossFit. The vibe is encouraging and the exercises are varied and scalable to your fitness level. Coach took on a far more basic workout than the CrossFit experts present, who assured us it would be easy to reduce the difficulty further if required.
RECOMMENDED: Six Popular Types of Crossfit Workouts
The variety and intensity of the classes help to nullify boredom, but also means you'll get fitter faster with stronger, greater endurance. The hell-for-leather approach won't suit all, but for many it'll be exactly what's needed to ensure they stick to their fitness regime.
To find out more, we spoke to Rob Lawson, a member of Team Reebok UK's CrossFit team.
Do you need to be fit before you try CrossFit?
CrossFit is most definitely for everyone. It is fully scalable to anyone, of any fitness level.
Is it very macho?
No, it's incredibly community based. It is one of the only places where the person who finishes last gets a bigger cheer than the person who finished first. In CrossFit you will find a community that will always be there to help you no matter what.
How is it different from other workouts?
CrossFit builds a general fitness capacity for you to go out and live life to the fullest, keeping you strong and healthy in later life. With that you will also gain a second family, always find a friendly place to train and like-minded people to hang out with.
Do you have to get involved with the Paleo diet?
CrossFit doesn't actually promote the Paleo diet. Lots of them run incentives for their members to eat well, and point you in the right direction to start.
RECOMMENDED: Does the Paleo Diet Work?
Why does CrossFit have a rep for promoting improper technique?
CrossFit doesn't promote improper technique. Any good CrossFit Box or Trainer will work off the charter of mechanics, consistency, intensity. We want you to learn the mechanics so that you can perform them consistently and only then will we increase the intensity (load, reps, speed, complexity). When you learn a new sport you look like a beginner and people suggest this is representative of bad technique.
For more information on CrossFit, head to crossfit.com and reebok.co.uk
Sign up for workout ideas, training advice, reviews of the latest gear and more.